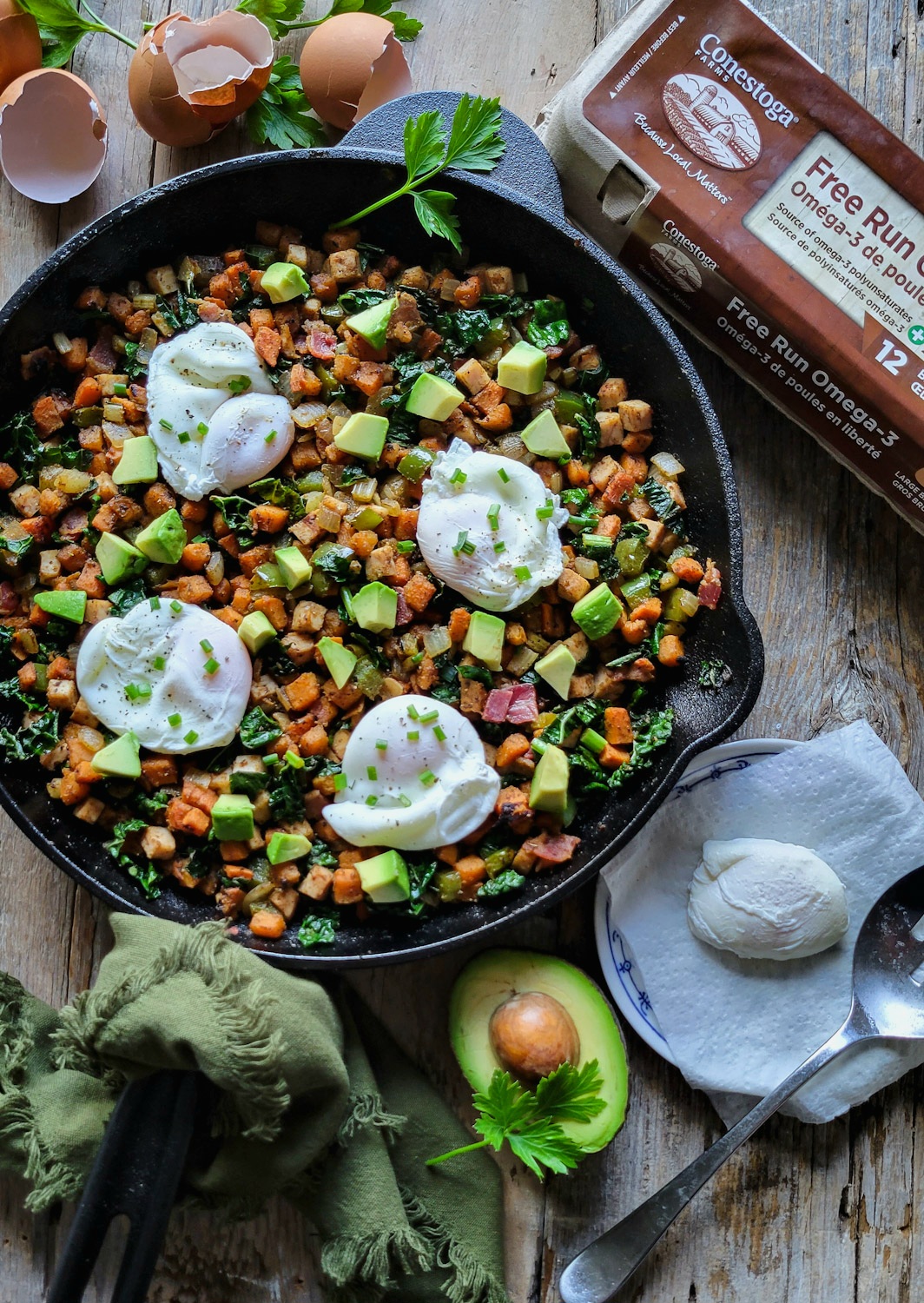 While this delicious meal may make a great and hearty brunch dish, it also works perfectly for a casual dinner. This casserole type hash of sautéed diced sweet potato, onion, bell pepper, and leftover roast turkey and kale is jam–packed with nutrients, is high in fibre, protein, and healthy fats, and just satisfies the tastebuds. 
Yield: 4 servings 
Ingredients
2 tbsp olive oil, plus more if needed 
22 rashers of bacon, cut into small lardons 
360 g (13 oz) small diced sweet potato (about 1 1/2 medium to large potatoes) 
5 tbsp chicken stock or water, divided 
1 small to medium yellow onion, diced small 
3/4 large bell pepper (red will make the hash sweeter, green will give a more savoury note) 
2 ribs of celery, diced small 
1 tsp chili powder 
1 tsp cumin 
1/2 tsp garlic powder 
pinch of cayenne 
salt and pepper  
1 1/2 cups cubed or torn roast turkey (see Notes) 
75g (2 1/2 oz) baby or Lacinato kale, chopped 
Poached Eggs 
1 tbsp white wine or apple cider vinegar 
4 or more Conestoga Free-Run Eggs 
1 avocado, sliced or cubed 
1 tbsp chopped chives 
Instructions:
Turkey Sweet Potato Hash  
Heat 1 tbsp oil in a large skillet with a lid, over medium heat.  Add the bacon and cook till golden and cooked through, but not shatteringly dry.  Transfer to a paper towel lined plate, reserving the fat in the pan. 
Add the remaining oil.  Add the diced sweet potato, along with 3 tbsp of stock or water. Cover the pan and cook till the water evaporates, stirring occasionally to ensure that the potatoes aren't sticking to the bottom of the pan, about 2-3 minutes. 
Add the onion, bell pepper and celery to the pan, and toss to cook evenly till just starting to soften, about 3-4 minutes.  Stir in the chili powder, cumin, garlic powder, cayenne and 1/4 tsp each of salt and pepper.  Increase the heat to medium high, and cook for another 3-4 minutes, or till you start to see the vegetables starting to crisp up nicely.  Adjust the heat if everything is started to get scorched. Also add a dash more oil if needed. 
Add in the leftover turkey along with the remaining stock or water. Stir the turkey into the vegetables to warm through. Reduce the heat to low and fold in the chopped kale. Turn off the heat and cover with the lid while you prepare the eggs. 
Poached Eggs 
Half-fill a large saucepan with water.  Bring it to a boil, and then drop the heat to a gentle simmer (about medium heat)  Add the vinegar. 
Crack one egg into a small tea-strainer set over a small bowl or cup. Let it sit for 15 seconds, to allow any loose bits of egg white to fall away. 
Once the water is simmering with small bubbles, use a wooden spoon to stir the pot in firm circles. When you have a good spin going, gently submerge the edge of the tea strainer into the centre of the water. The spinning water will wrap the egg white around the yolk. Let it simmer until the whites have solidified and the yolk is to your liking, about 2 minutes, depending on the heat of the water and how you like your eggs.  Remove with a slotted spoon to a paper towel lined plate.   
If your pot is large, then you may get three or even eggs in comfortably at the same time. If not, let the water return to that gentle simmer and repeat with the remaining eggs. 
Assemble 
Divide the hash among four bowls or plates.  Top with the egg, and garnish with avocado and chopped chives. 
Leftover hash keeps well in the fridge for a few days.   
Feel free to replace the roasted turkey with cooked turkey sausage or ground turkey.