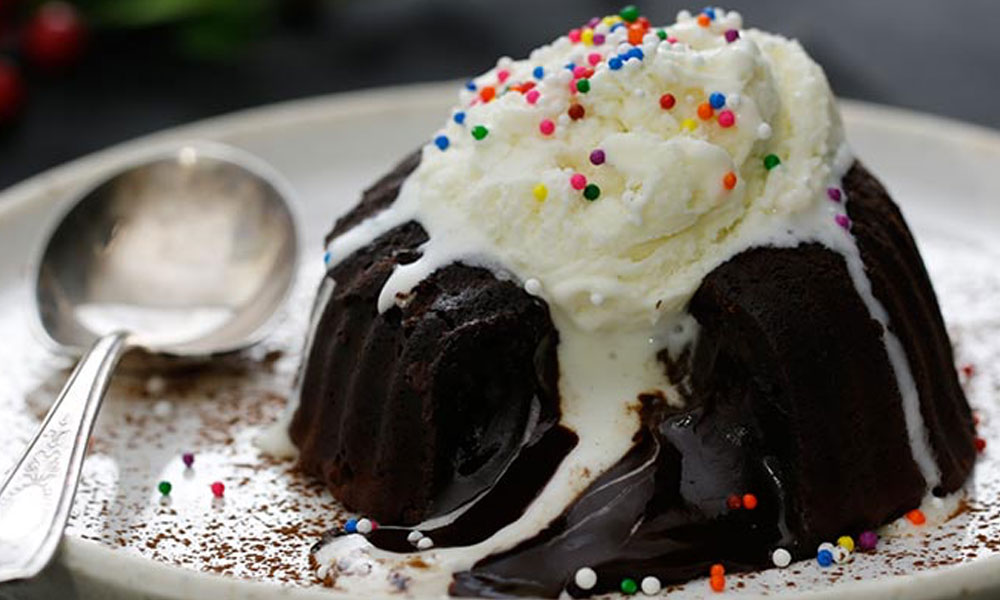 These decadent and rich Chocolate Lava Cakes are easy to make and even easier to enjoy! Their warm, molten centres make for a melt-in-your mouth experience that will surely impress any guest. Serve with vanilla ice cream for a beautiful contrast in temperatures.
Makes: 4 Servings
Prep Time : 10 Minutes
Cook Time : 15 Minutes
Ingredients
½ cup unsalted butter, plus more for greasing ramekins
1 tbsp unsweetened cocoa powder, for dusting
6 oz semi-sweet chocolate, chopped
2 eggs
2 egg yolks
½ cup icing sugar
¼ cup all-purpose flour
⅛ tsp salt
Optional
vanilla ice cream
sprinkles
Instructions:
Preheat oven to 400°F (200°C). Grease four ¾ cup (175 mL) ramekins with butter; dust with cocoa powder. Set aside.
In a large heatproof bowl, combine butter and chocolate. Set bowl over a large saucepan of gently simmering (not boiling) water. Cook stirring until melted and smooth, 2 to 3 minutes. Remove heatproof bowl from large pot and allow to cool, 2 to 3 minutes.
Whisk in eggs and egg yolks, one at a time, into chocolate mixture, until incorporated. Add icing sugar, flour and salt; mix gently, until smooth.
Spoon batter evenly among prepared ramekins. Place on a small rimmed baking sheet. Bake for 10 to 12 minutes or until edges of desserts are firm and slightly cracked, but centre is still soft and spongey to a gentle touch.
Remove from oven, allow to cool 3 to 5 minutes. Gently loosen edges with a knife and invert onto individual serving plates. Serve warm with vanilla ice cream and sprinkles, if desired.
Tip: For very runny centres, similar to chocolate sauce, bake for 10 minutes; for a slightly firmer centre, similar to pudding, bake up to 12 minutes.