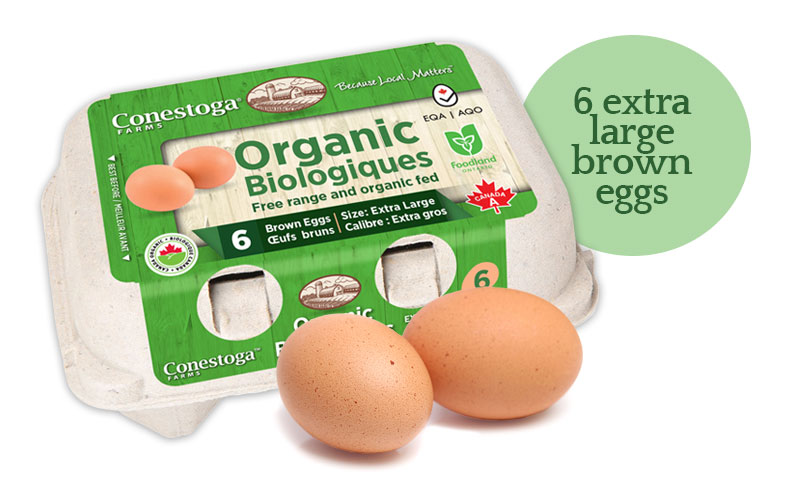 Ontario local Organic Eggs
All of our organic laying hens are fed Canadian Organic Regime (COR) certified feed, made from non-GMO grains. These non-GMO grains are produced on prohibited substance-free land. Our organic feed is 100% vegetarian with no animal by-products.
Conestoga Farms™ organic eggs are laid by Ontario-raised, organically fed laying hens that live on free range farms, with access to outdoor pastures.
All packaging for Conestoga Farms egg cartons are made from 100% post consumer recycled materials. Empty cartons are 100% recyclable (where available).
Nutrition Facts

Per 2 jumbo eggs (116 g)

| | |
| --- | --- |
| Calories 170 | % Daily Value |

Total Fat 12 g
16 %
Saturated 4 g
+ Trans 0 g
20 %
Cholesterol 430 g
Sodium 140 mg
6 %
Carbohydrate 1 g
1 %
Fibre 0 g
Sugars 0 g
0 %
0 %
Protein 14 g
Vitamin A
28 %
Vitamin C
0 %
Calcium
4 %
Iron
11 %
Our organic eggs are certified by Quality Assurance International and the CFIA. There are no antibiotic or synthetic chemicals used in feed or flock management.

At Conestoga Farms, our Ontario-raised, free run hens live in open concept, weather sheltered barns. There, they can freely forage, scratch, peck, perch and lay their eggs in nest boxes.

Hens are fed a GMO-free, all vegetarian feed, enriched with soy, wheat, buckwheat, corn, and other necessary organic fruits & vegetables. It does not contain any animal by-products.

When a dozen eggs is too many, the handy 6-pack format helps to ensure that you're using your eggs at their freshest.

Produced by local Ontario egg farmers and recognized as local by Foodland Ontario.
How local are your eggs?
Ever wonder where your eggs come from?
Enter your postal code below to find out!
Local Eggs