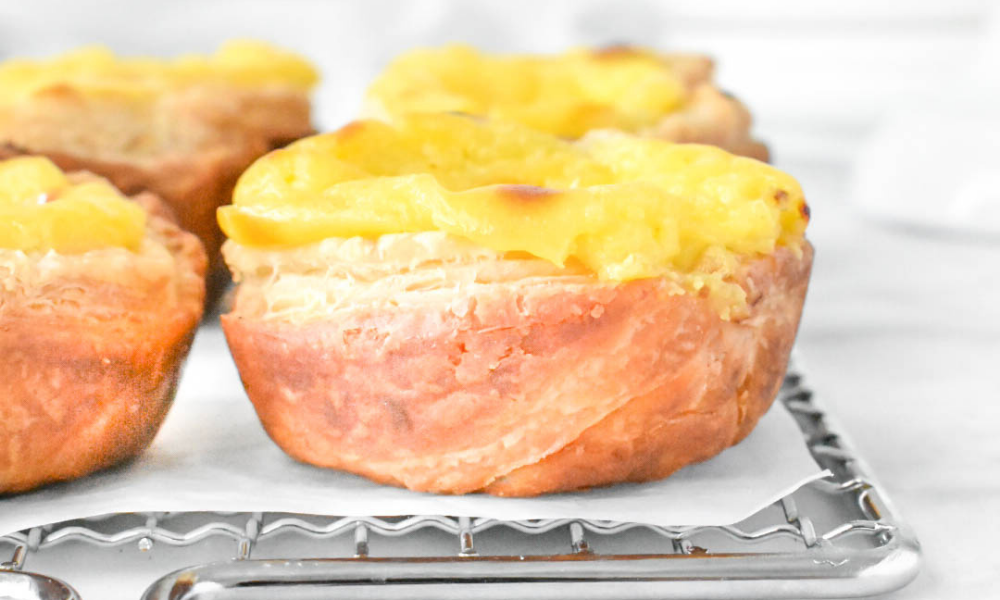 Take a trip to Portugal with our friend Cathy from Herbs and Flour. These authentic Portuguese Custard Tarts will have your friends and family going back for seconds and thirds with their flaky, buttery puff pastry cups filled with delicious custard and browned to perfection.
Ingredients
2 sheets puff pastry
3 Free Range Conestoga Farms egg yolks
1 Free Range Conestoga Farms egg
1 ¾ cups 3.25% milk or whole milk
¾ cup granulated sugar
1 cinnamon stick
1 Tbsp cornstarch
1 tsp vanilla extract
Cinnamon for dusting (optional)
Powdered sugar for dusting (optional)
Instructions:
Roll out the puff pastry sheets into 2 10×12 inch or 25×30 cm rectangles. Starting on the shorter side, roll the puff pastry sheets into a log. Wrap each log in parchment or plastic wrap and place in the fridge.
To make the custard filling, whisk the egg yolks, whole egg, milk, sugar, and cornstarch until smooth and there are no lumps. Add the cinnamon stick and place it over medium heat.
Whisk the custard as it heats for 3-4 minutes and then discard the cinnamon stick. Continue whisking over medium heat until the custard thickens and coasts the back of a spoon.

Remove from heat and stir in the vanilla extract. Pour the extract into a bowl. Cover the bowl with plastic food wrap, placing the food wrap directly on top of the custard so that no skin forms. Allow to cool completely.

Preheat oven to 450F while the custard is cooling.
Once custard has cooled, remove the puff pastry logs from the fridge and cut each log into 12 equal slices. Working with one slice at a time, use a rolling pin to roll it out into a 3.5 inch or 9 cm circle. [TIP: You can roll out the circles to slightly larger shapes and use a 3.5 inch cookie cutter to cut perfect circles]. Place the circles into a metal muffin tin or tart shells, forming cups for the custard to sit in. repeat with the remaining puff pastry portions.
Spoon the custard mixture into the puff pastry cups. Bake in the oven for 20-25 minutes. At this point you should see some brown spots begin to form on the custard tops. If needed, continue baking for 3-5 more minutes, being careful not to burn the pastry. Remove from oven and allow to cook for 5 minutes in the pan.
Carefully remove the pan and transfer to a cooling rack to cool. Sprinkle with cinnamon and powdered sugar (if desired) and serve. [TIP: If sprinkling with powdered sugar, allow the tarts to cool completely otherwise the powdered sugar will melt on contact].