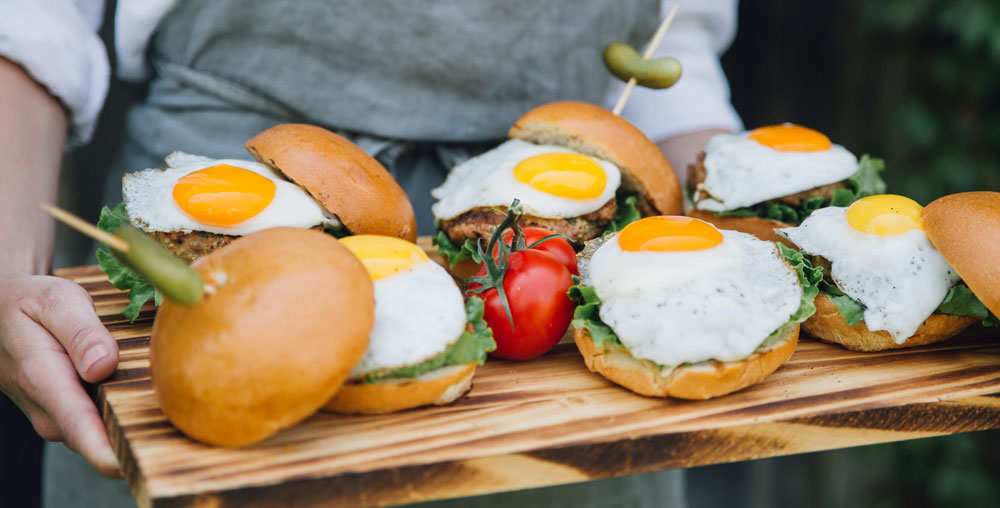 Scramble everything you know about cooking with turkey, we've got an egg-citing new collaborative recipe from Toronto Chef and "Honest to Goodness" Cookbook Author Christine Tizzard! Served with a side of scrambled Conestoga Farms Free Range Eggs, these Super Juicy Turkey Sliders have been slipped a simple yet spicy combination of clove garlic, ground cumin, ground coriander and cayenne. Topped with a delicious fried egg and served with Orange Sumac Dip, these juicy turkey sliders are guaranteed to be a BBQ season favourite.
Yield: 14
Prep Time: 10 minutes
Total Time: 10 minutes
Ingredients
Super Juicy Turkey Sliders
1 Conestoga Farms Free Range Egg, lightly beaten
1 clove garlic, puréed
1 ½ tsp ground cumin
1 ½ tsp ground coriander
½ tsp cayenne
1 ½ tsp salt
½ tsp pepper, to taste
5 each green onions, finely chopped
1 ½ cups coarsely grated zucchini
2 tbsp chopped cilantro
1.5 lbs ground turkey or chicken
2–4 tbsp (30–60 mL) neutral flavoured oil
14 Slider buns, pitas or lettuce cups (optional)
Fried Eggs
7 Conestoga Farms Free Range Eggs
Neutral flavoured oil
½ tsp salt, to taste
½ tsp pepper, to taste
Orange Sumac Dip
½ cup (125 mL) plain yogurt
1 tsp (5 mL) orange zest
1 tbsp (15 mL) freshly squeezed orange juice
1 tbsp (15 mL) extra virgin olive oil
½ clove garlic, puréed
2 tsps. (10 mL) ground sumac
½ tsp Salt, to taste
½ tsp Pepper, to taste
Instructions:
For the Super Juicy Turkey Sliders:
Preheat oven to 425°F (220°C), and line a baking sheet.
In a large bowl, lightly beat egg with a fork. Stir in garlic, spices, salt and pepper. Stir in green onions, zucchini and cilantro.
Add ground turkey and mix by hand until meat binds with all other ingredients. All this can be done ahead of time and cooked when needed, just cover with plastic wrap and transfer to the fridge.
Portion slider mix into equal-sized balls, about 2 Tbsp (30 mL) each, and place on another plate or baking sheet. Then flatten each slightly to form mini patties.
Preheat large cast-iron or sauté pan over medium-high heat. Add in 1 Tbsp (15 mL) oil and sear sliders on both sides, about 3 minutes per side. Do not overcrowd pan; this can be done in batches, adding more oil as needed. Transfer to a lined baking sheet and place in preheated oven for an additional 5 minutes or until internal temperature reaches 165°F (74°C).
Serve warm or cold, with some fried egg on top, with or without buns and condiments of choice.
For the Fried Eggs:
Preheat large cast iron or non stick pan over medium high head. Add enough oil to lightly coat bottom of pan.
Crack eggs in batched into pan and fry sunny side up to your liking, about 3-5 minutes.
Set aside and cut each fried egg into quarters to place on top of each slider.
For the Orange Sumac Dip:
Stir all ingredients together in a bowl and store in an airtight container in fridge.
Recipe courtesy of Christine Tizzard.