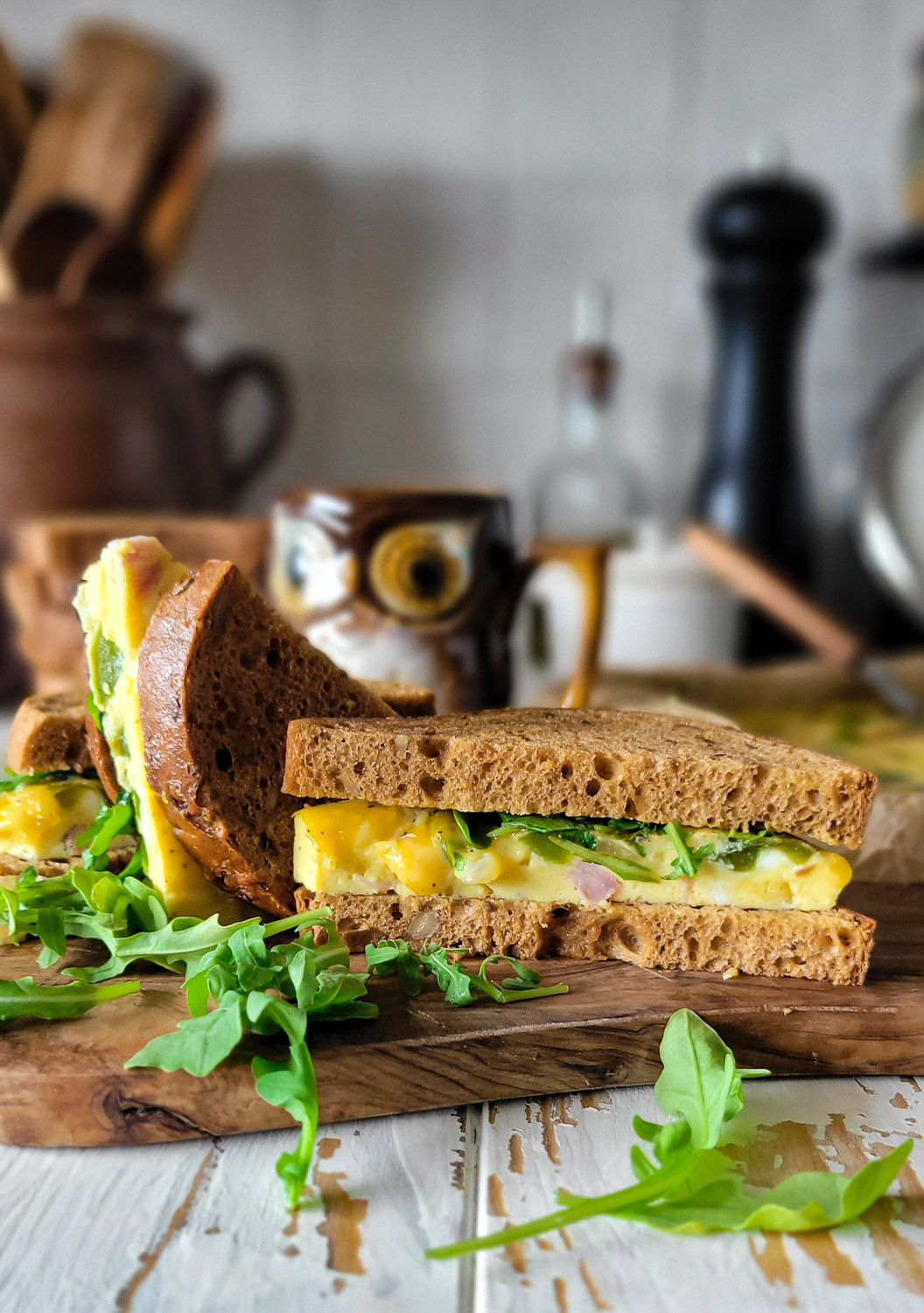 The classic diner breakfast sandwich just got easier to make, thanks to the sheet pan! Sautéed green peppers, onion and diced ham are the essential flavour makers. This recipe will feed 6 people, or more depending on how you slice up the finished baked eggs. Serve between toast with cheese and hot sauce, or slice up and freeze for future on-the-run breakfasts.
Yield: Serves 6
Ingredients
Filling and Eggs
1 tbspolive oil or butter
1/2 cupdiced green pepper, about 1/2 half of a medium pepper
1/2 cupdiced yellow onion, about 1/2 of a medium-large onion
1 cupdiced deli ham, about 4.5 oz or 125 grams
12 large Conestoga Eggs, for optimum gold yolks!
1/3 cupwhole milk
1 tspsalt
1 tsppepper
chilli flakes, optional
1/2 cupgrated Monterey Jack cheese, see Notes
Assemble Sandwiches
your favourite sandwich bread, multigrain etc
hot sauce
arugula
 
Instructions:
Method
Prepare the Filling
In a medium skillet over medium heat, heat the oil or butter over medium high heat. Add the green pepper and onion and sauté till just starting to soften, about 4 minutes.
Add the ham and continue cooking till the ham starts to get a slight crust forming, about 4 minutes.
Remove from the heat and place in a bowl to cool slightly. It shouldn't be hot when it goes into the eggs.
This can be made in advance and stored in the fridge till needed. Just bring to room temperature before continuing with the recipe.
Eggs
Preheat the oven to 325F
In a large bowl whisk the eggs and milk till combined well. Add the milk, salt and pepper. Add a touch of chilli flakes if so desired.
Stir in the cooled down pepper and ham mixture.
Cut a piece of parchment paper several inches larger than a 9 x 13 inch baking sheet with a rim. Run the parchment under the tap to wet, and then gently but firmly wring out the water. Shake it open and fit it into the baking sheet.
Spray the parchment paper with non-stick spray.
Pour the egg mixture into the baking sheet. Distribute the filling ingredients so that they are evenly spread out and not clumped in corners. Scatter the grated cheese evenly over the top.
Carefully carry the pan over to the oven (have the door already open) and place on the centre rack. Bake until the eggs are set, the temperature on an instant read thermometer should read 160F. This can take anywhere between 18-25 minutes depending on your oven.
Remove the pan to a wire cooling rack. Let the eggs set and cool slightly before slicing.
Assemble Sandwiches
While waiting, toast the bread, get the arugula ready and have the coffee on!
Slice the eggs into 6 even squares, for 6 sandwiches. If you are only going to eat one or two right then and there, feel free to slice the remaining eggs into smaller slices for mid-week breakfast or lunch prep.
Toast the bread, butter it if desired, and place an egg square on one slice. Add a few dashes of hot sauce if this appeals to you. Lay a small handful of arugula on top. Top with the other buttered toast slice.


Feel free to add more cheese, bacon, tomato etc, see Notes


Remaining egg slices can be stored in a container in the fridge for the week. They can also be placed between wax paper and stored in a freezer bag in the freezer for 2-3 months. Thaw in the fridge overnight and then re-warm in a skillet, toaster oven, air fryer or microwave.
See blog post for more details.
Recipe Notes
Feel free to use your favourite grated cheese, whether Cheddar, Gouda, Jarlsberg, or even a Tex-Mex Blend!
You can use arugula or lettuce in the sammie, or forego anything green if you feel like it. You can add extra cheese, sliced bacon or tomato etc.
You can use a 11 x 17 pan (or thereabouts) by upping the eggs to 18 and the milk to 1/2 cup. This will easily feed 8-10 people. Make sure which ever pan you use, that the edges are at least 1 inch high.
Serve as part of a brunch spread, or use in meal prep during the week.