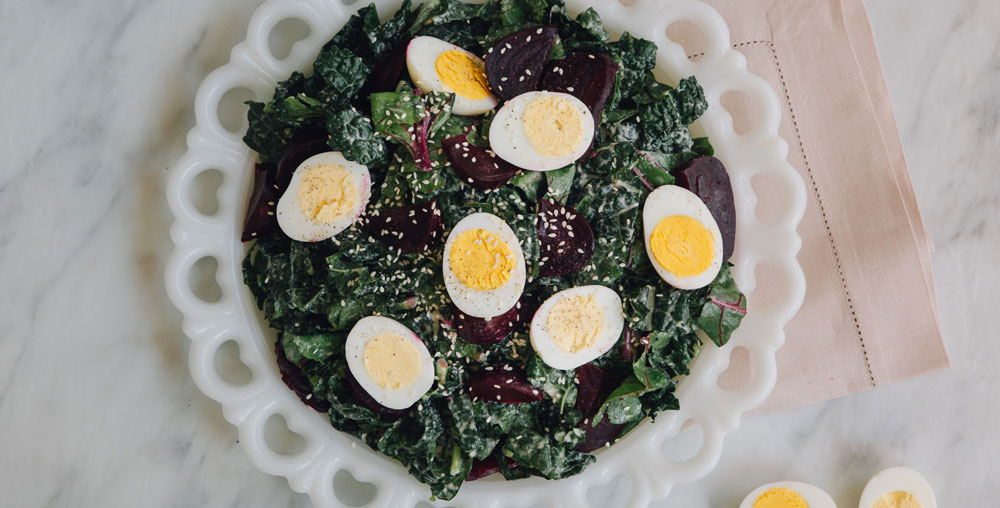 Keep your salad on the sunny side up with Southern Ontario produced Conestoga Farms Free Run Omega-3 Eggs and this pattern-cracking new recipe from Toronto Chef & "Honest to Goodness" Cookbook Author Christine Tizzard. Topped with a black pepper-spiced and seeded Caesar salad dressing, a parmesan egg garnish and a one-minute mayo mix, this fifteen-minute summer feature is sure to be a hit at the dinner table.
Yield: 2 mains or 4 sides
Prep Time: 15 minutes
Total Time: 15 minutes
Special Equipment Needed: Good blender or small food processor.
Ingredients
Beet Greens & Kale Seeded Caesar Salad
1 bunch kale, stems removed (remove for stir-fry or sauté), leafy greens only, very finely chopped
I bunch beet greens, washed well, stems removed (reserve for stir-fry or sauté), leaves finely chopped
3 roasted beets, peeled and cut into wedges
Seeded Caesar Salad Dressing
2 cloves garlic, smashed and chopped
4 tbsp raw sesame or hemp seeds
4 tbsp nutritional yeast or grated Parmesan cheese
4 tbsp (1 lemon) freshly squeezed juice
4 tbsp water
4 tbsp olive oil
4 anchovies
½ tsp salt, to taste
½ tsp fresh Black Pepper, to taste
One-Minute Mayo
1 Conestoga Farms Free Run Omega-3 Egg
2 tsp (10 mL) white wine vinegar or fresh lemon juice
1 tsp (5 mL) Dijon mustard
½ tsp (2 mL) salt
½ tsp pepper to taste
1 cup (250 mL) neutral flavoured oil
Garnish:
2-4 tbsp nutritional yeast or shaved Parmesan cheese
2 tb dp raw sesame or hemp seeds
4 Conestoga Farms Hard Boiled Eggs, chopped
Instructions:
For the Salad:
Prepare salad greens. Got a salad spinner? Use it. If not, wrap washed leaves in clean tea towel and gently shake to excess water. Place in large salad bowl. The drier the leaves the better the dressing will coat greens.
Make dressing in blender or small food processor by adding all ingredients, except salt and pepper, until you have a thick and creamy Caesar dressing. Taste and season with salt and pepper at the end (since Parmesan and anchovies are already salty).
Pour over half of the dressing and massage into greens with one clean hand until coated and greens are slightly limp. Taste and add more dressing if needed.
Serve with roasted beet wedges, chopped eggs, seeds, and a sprinkle of more nutritional yeast or Parmesan cheese.
For the One-Minute Mayo:
Place egg, vinegar (or lemon juice), mustard, salt and pepper into food processor or blender.
Pulse and then add oil in a slow steady stream and count to 30 seconds, or until oil is completely emulsified and you have a thick creamy mayo.
Taste and adjust seasoning if necessary.
Recipe courtesy of Christine Tizzard.