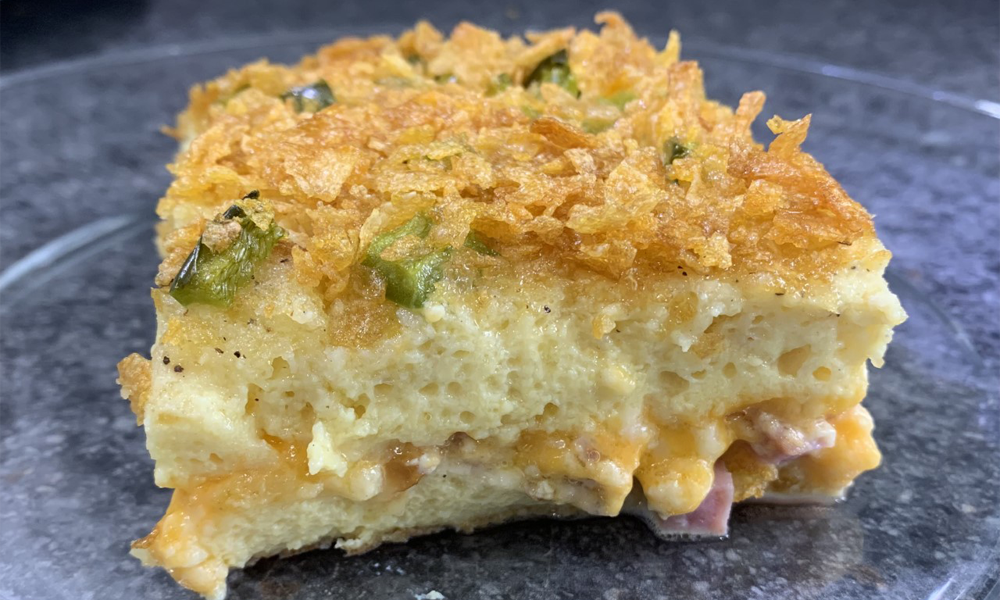 You must try this super easy casserole recipe if you are a starter cook or have a big family to feed!
Ingredients
16 slices white bread, crusts removed
2 cups diced ham
2 cups shredded cheese
8 eggs
½ tsp salt
½ tsp pepper
1 tsp dry mustard
¼ tsp onion powder
2 tsp Worcestershire sauce
2 ¼ cup milk
½ cup green pepper diced
½ cup melted butter
2 cups crushed corn flakes
Instructions:
Grease a 9×13 glass baking dish. Put in 8 slices of bread, covering the bottom of the dish entirely.
Cover bread with cubed ham and shredded cheese. Cover with remaining 8 slices of bread.
In a separate bowl, beat eggs with salt, pepper, mustard, onion powder, Worcestershire sauce and milk. Pour over bread. Sprinkle green peppers on top.
Let sit in the fridge either overnight or for 4 hours.
Before baking, cover with crushed corn flakes and sprinkle melted butter over top. Bake uncovered at 375 degrees for 1 hour.
Let sit 10 mins before serving. Enjoy.