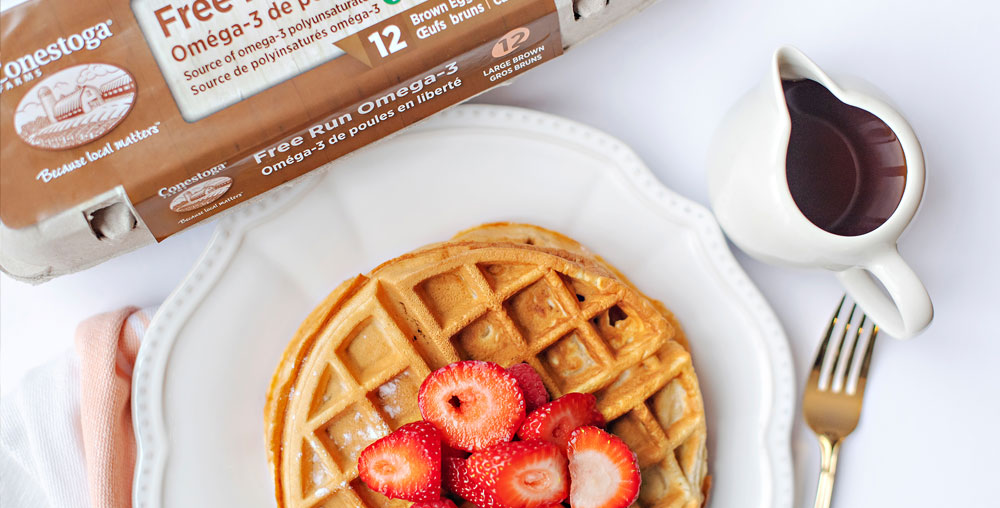 Looking for a tasty, new brunch recipe? Try these delicious and healthy strawberry waffles courtesy of our friend Honestly Alexandra. Made with Conestoga Farms Free Run Omega-3 Eggs, this is a fruity twist on a classic recipe, complete with your favourite waffle toppings.
Makes: 5 Servings
Ingredients
1 ½ cup All-purpose flour
½ cup Whole wheat flour
1 tbsp Brown sugar
4 tsps Baking powder
2 cups Milk
2 Conestoga Farms Free Run Omega-3 Eggs
4 tbsps Unsalted butter, melted
½ cup Strawberries, sliced thinly
Instructions:
Preheat waffle iron then spray with oil.
In a large bowl combine the white flour, whole wheat flour, baking powder, brown sugar,
and mix well.
In another bowl, whisk the milk, Conestoga Farms Free Run Omega-3 Eggs, and melted
butter.
Pour the dry ingredients into the wet ingredients, mix until combined. Last, add the
strawberries and stir together.
Pour the batter into your waffle iron and cook until waffles have browned and are crispy
on the outside.
Enjoy with fresh strawberries, maple syrup and butter!