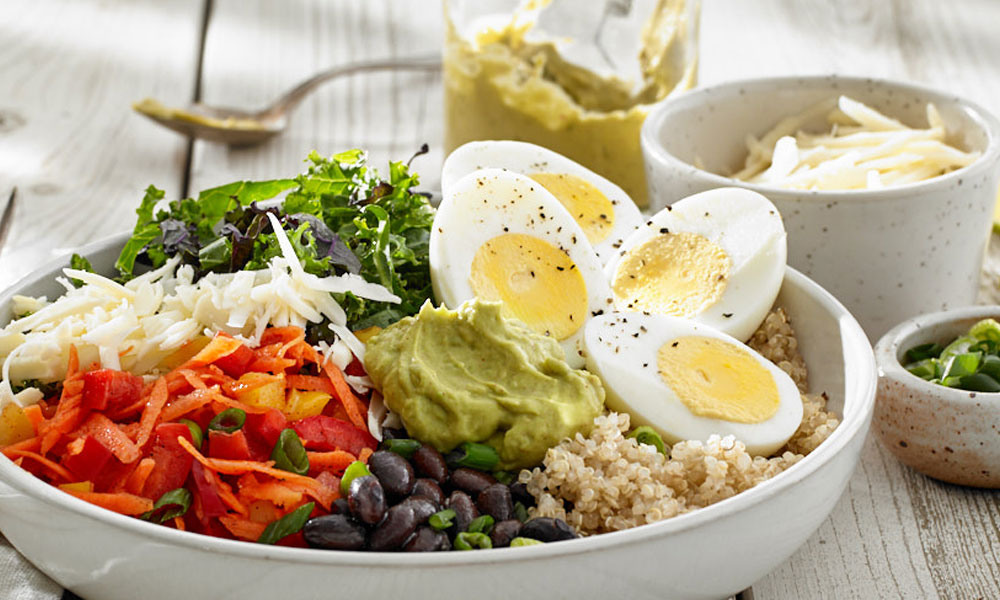 Get all the things you crave in this delicious and nutritious "beyond salad" power bowl, with the added kick of the chipotle cream to spice things up.
Makes: 4 Servings
Prep Time: 40 Minutes
Cook Time: 0 Minutes
Ingredients
2 tbsp apple cider vinegar
1 tbsp olive oil
1 tsp chili powder
1 tsp brown sugar
½ tsp paprika
¼ tsp each salt and pepper
1 cup grated carrot
½ cup each diced sweet red and yellow pepper
1 tbsp finely chopped fresh cilantro
1 cup cooked quinoa
1 cup chopped purple kale
½ cup drained and rinsed canned black beans
2 green onions sliced
½ cup grated Cheddar cheese
8 eggs, hard-cooked, peeled and halved
fresh cilantro leaves and lime wedges, (optional)
Chipotle Cream
½ cup chopped avocado
¼ cup plain Greek yogurt
⅛ tsp chipotle powder
1 tbsp lime zest
2 tbsp lime juice
Instructions:
In a medium bowl, whisk together vinegar, oil, chili powder, brown sugar, paprika, salt and pepper. Add carrots, red and yellow peppers and cilantro. Toss to combine; set aside to marinate.
Chipotle Cream: In small food processor, combine avocado, yogurt, chipotle powder, lime zest and juice; purée.
Divide quinoa, kale and black beans among 4 bowls. Top with marinated vegetables, green onion, cheese and eggs.
Serve with a dollop of chipotle cream. Garnish with cilantro leaves and lime wedges, if using.
Tip: Chipotle cream can be stored in an air tight container in the refrigerator for up to 2 days.