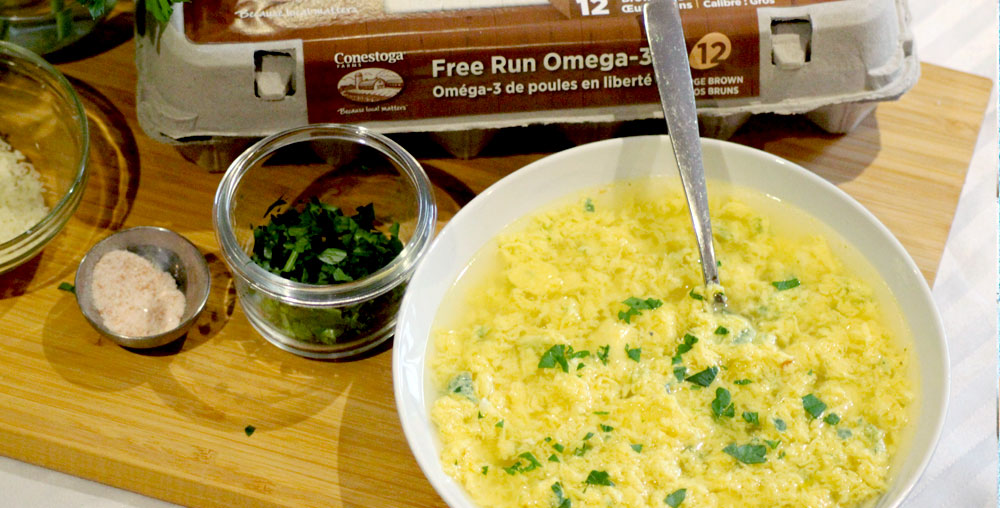 Hey egg lovers, our friend and local RHN Jaclyn Casiero is challenging you to break out of your shells and enjoy this latest recipe, a Stracciatella Soup enriched with delicious, nutritious Conestoga Farms Free Run Omega-3 Eggs!
Yield: 3-4
Prep Time: 15 minutes
Total Time: 30 minutes
Print This Recipe
Ingredients
6 cups reduced-sodium chicken broth
2 tablespoons freshly grated Parmesan
2 tablespoons chopped flat-leaf parsley
Salt and freshly ground black pepper
Instructions:
Bring the broth to a boil in a large saucepan over medium-high heat.
In a bowl, whisk the Conestoga Farms Free Run Omega-3 Eggs, cheese, and parsley to blend.
Reduce the heat to medium-low. Stir the broth in a circular motion. Gradually drizzle the egg mixture into the moving broth, stirring gently with a fork to form thin strands of egg, about 1 minute.
Then season the soup, to taste, with salt and pepper. Ladle the soup into bowls and serve.