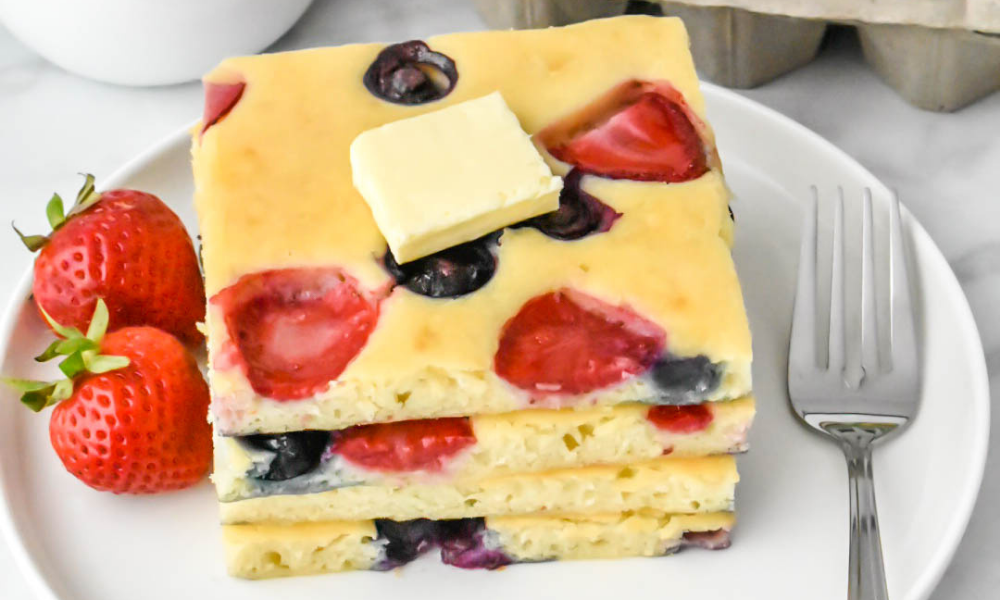 Cathy from Herbs and Flour show us how to make Sheet Pan Pancakes, which are a great way to make pancakes for the whole family all at once. Gone are the days of standing over the stove cooking 1 or 2 pancakes at a time!
Ingredients
3 cups all purpose flour
1 tablespoon baking power
3 tablespoons sugar
¼ teaspoon salt
2 ¼ cups milk
2 Conestoga Farms Organic Eggs
½ cup butter, melted
1 teaspoon vanilla extract
½ cup strawberries, sliced
½ cup blueberries
Instructions:
Preheat oven to 425F and line a sheet pan with parchment paper (or grease it with oil or butter).
In a large mixing bowl, add the flour, baking powder, sugar and salt and whisk to combine.
Add the milk, eggs and butter and whisk until incorporated.
Pour the batter into a sheet pan and spread evenly.
Sprinkle the batter with sliced strawberries and blueberries and bake for 15-20 minutes or until golden brown. Slice and serve!