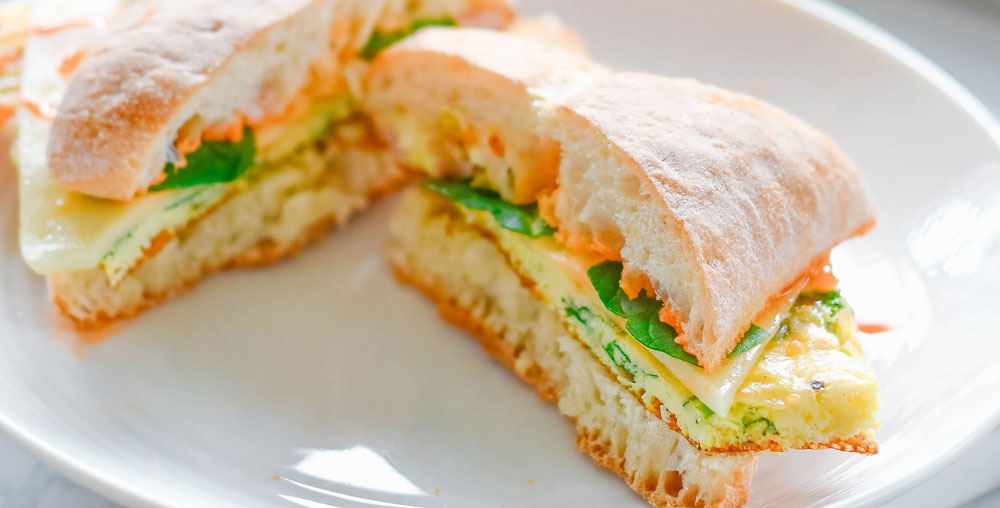 Need some simple eggcitement for your days at home? 'Pan' your eyes over this Sheet Pan Egg Ciabatta Sandwich recipe, courtesy of House of Kerrs. Full of nutrients from the Conestoga Farms Free Run Omega-3 Eggs, one round of baking leaves you with 12 portions of deliciousness for snacking on anytime!
Print This Recipe
Ingredients
1 cup precooked ham, chopped
3 tbsp Olive Oil
14 Conestoga Farms Free Run Omega-3 Eggs
½ cup milk
4 green onions chopped
1 cup baby spinach
1 medium tomato, diced
2 cups mozzarella cheese
1 doz. small Ciabatta buns
1 tsp coarse salt
1 tsp ground black pepper
Optional
sliced cheese
sauce to top your sandwich
Instructions:
Preheat oven to 350 degrees F.
Whisk eggs, milk and green onions in a large bowl.
Pour olive oil on to baking sheet and coat evenly. Add chopped ham and diced tomato, spacing evenly around the pan.
Pour the egg mixture on top of the ham & tomatoes, then sprinkle baby spinach and grated mozzarella cheese over top.
Place pan in the oven and bake 20 minutes until the edges of the egg are golden.
Remove and let the eggs cool at least 5 minutes before cutting using a pizza cutter into 12 portions.
Optional: Serve with a slice of your favourite cheese and sauce.