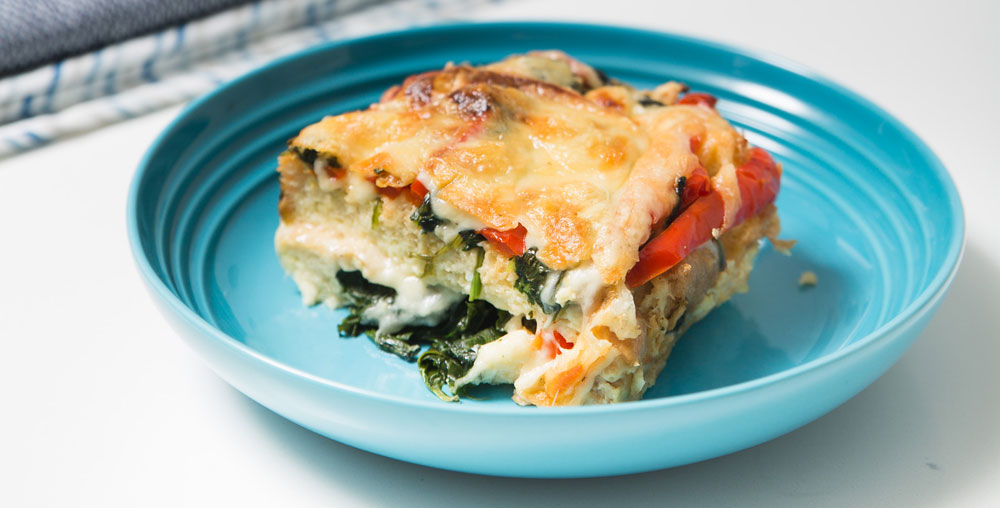 What's better than a one cheese anything? A three cheese spinach strata, lovingly made by our friends at Bite Me More! Made with our fresh Free Run Omega-3 Eggs plus Gruyere, white cheddar and Parmesan cheese, this recipe will have you saying, "gotta strata!"
Yield: 24 Servings
Ingredients
4 tbsp Butter
2 tbsp Olive oil
2 large Yellow onions, thinly sliced
2 large Red peppers, thinly sliced
4 small Garlic cloves, minced
2 large Shallots, minced
4 tsp Dijon mustard
2 tsp Fresh thyme, chopped
1 tsp Kosher salt
1 tsp Black pepper, freshly ground
½ cup Dry white wine
20 cups Loosely packed baby spinach
16 each Conestoga Farms Free Run Omega-3 Eggs, Brown
6 cups Whole milk
1 tsp Kosher salt
½ tsp Black pepper, freshly ground
24 cups French bread, 1-inch cubes
4 cups Gruyere cheese, grated and divided
4 cups Sharp white cheddar, grated and divided
2 cup Parmesan cheese, grated and divided
Instructions:
Coat 2, 13×9-inch baking dishes with non-stick cooking spray. Heat butter and olive oil in a large skillet over medium heat.
Add onions and cook 4 minutes until softened. Add red peppers, garlic, shallots, Dijon mustard, thyme, salt and pepper. Cook stirring for 2 minutes. Add wine to skillet and reduce for 1 minute. Stir in spinach, just until wilted, remove pan from heat.
In a medium bowl, whisk Conestoga Farms Free Range Omega-3 Eggs, milk, salt and pepper.
To assemble, spread half the bread cubes over the base of each baking container provided to make up 12 dishes. Top with half the spinach mixture. Sprinkle each with 1 cup gruyere cheese, 1 cup white cheddar and ½ cup Parmesan cheese. Scatter remaining bread over the cheese, top with remaining spinach mixture. Pour egg mixture evenly over both stratas and finish with remaining gruyere, cheddar and Parmesan cheese.
Preheat oven to 350˚F. Bake for 40/50 minutes until strata is set and top begins to brown. Remove from oven and let cool for 5 minutes.
Enjoy!