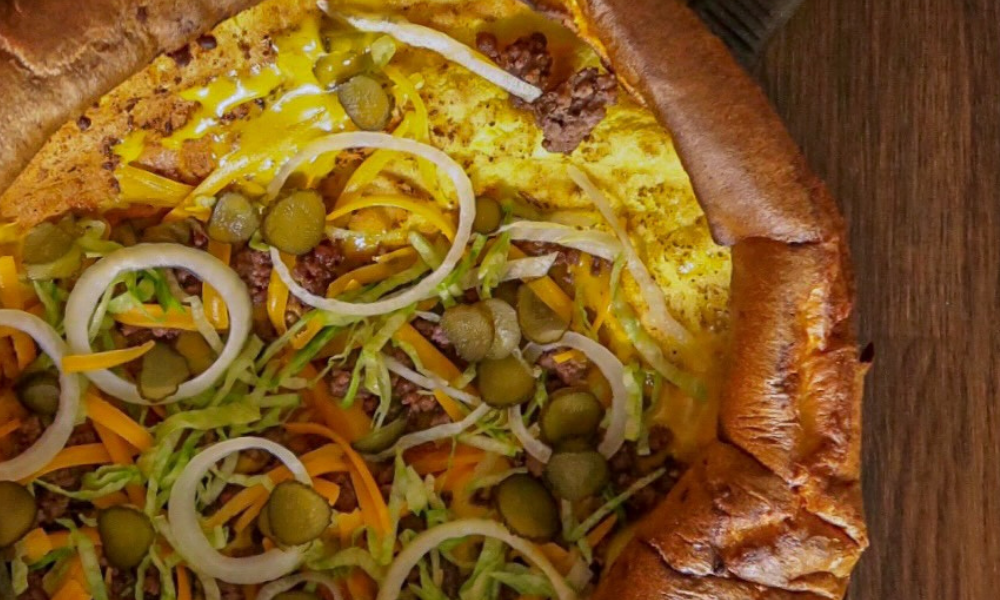 Our friend Sam Medeiros has partnered with Conestoga Eggs to showcase the diversity of eggs through this Classic Dutch Baby topped with garnish inspired by a Big Mac!
Ingredients
Dutch Baby
4 Conestoga Free Run Omega-3 Eggs
3/4 cup Milk
3/4 cup All Purpose Flour
1 tbsp Salt
2 tbsp Unsalted Butter
Mac Sauce Hollandaise
2 pieces Conestoga Free Run Omega-3 Egg Yolks
1 tsp White Vinegar
1 tbsp Dijon Mustard
4 tbsp Unsalted Butter
1 tbsp Ketchup
1 tbsp Sweet Cornichons, sliced
Salt and Pepper to Taste
Garnish
1/2 cup Ground Beef, cooked and seasoned
1/4 piece Sweet Onion, thinly sliced
2 tbsp Sweet Cornichons, sliced
2 leaves Iceberg Lettuce, thinly sliced
1/4 cup Aged Orange Cheddar, grated
Instructions:
For the Dutch Baby: Combine eggs, milk, flour & salt in a blender and blend until completely smooth. Add butter into a preheated cast iron pan, pour batter in and bake for 15mins.
For the Mac Sauce Hollandaise: In a bowl, add egg yolks, vinegar, mustard and salt. Whisk and add butter, ketchup, sweet cornichons and set aside.
Garnish: In a medium heat pan, sauté ground beef. Slice sweet onions, sweet cornichons, lettuce, cheddar and set aside. Once the Dutch Baby is ready, top with Mac Sauce hollandaise and the rest of the garnish.