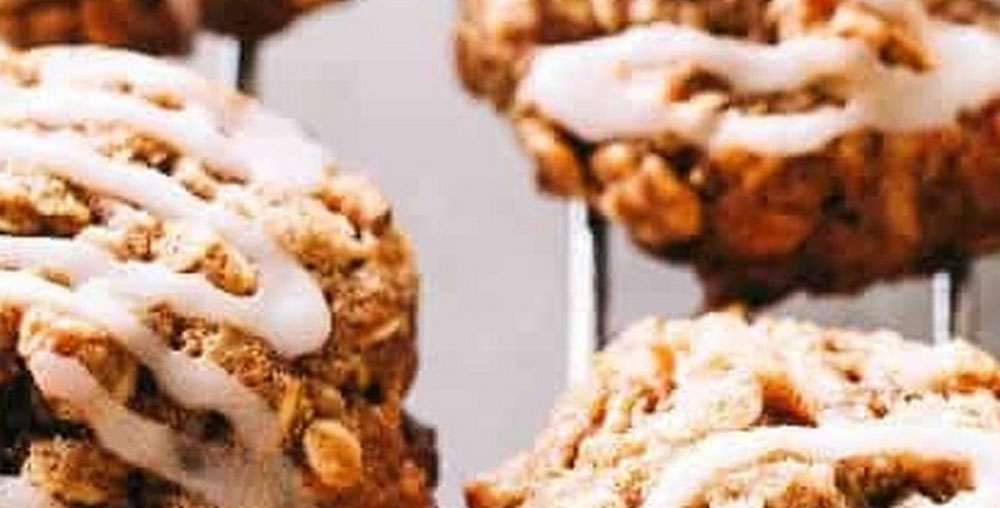 These perfectly soft and chewy oatmeal cookies are loaded with apples, oats, and cinnamon, and are topped with a simple sweet glaze.
Makes: 24 cookies
Ingredients
FOR THE COOKIES:
1/2 cup butter softened
3/4 cup packed brown sugar
2 eggs
1 teaspoon pure vanilla extract
1 cup all-purpose flour
1/2 teaspoon baking soda
2 cups rolled oats
1 apple peeled, cored and shredded
2 teaspoons ground cinnamon
1/8 teaspoon ground nutmeg
1/2 teaspoon salt
1/2 cup chopped walnuts
FOR THE GLAZE:
1/4 cup powdered sugar
1/2 tablespoon water, you can also use milk
Instructions:
Preheat oven to 375F.
Lightly grease cookie sheet with cooking spray and set aside.
In your mixer's bowl, combine butter and brown sugar; mix until light and fluffy.
Beat in eggs and vanilla.
With a wooden spoon, mix in the rest of the ingredients, except for powdered sugar and milk.
Stir until just blended.
Drop rounded tablespoonfuls of dough about 2-inches apart onto prepared cookie sheets.
Bake for 10 to 12 minutes, or until set.
Remove from oven and transfer the cookies to a cooling rack.
Meanwhile, mix powdered sugar and water (or milk) in a small mixing bowl and drizzle over cooled cookies.
Serve.