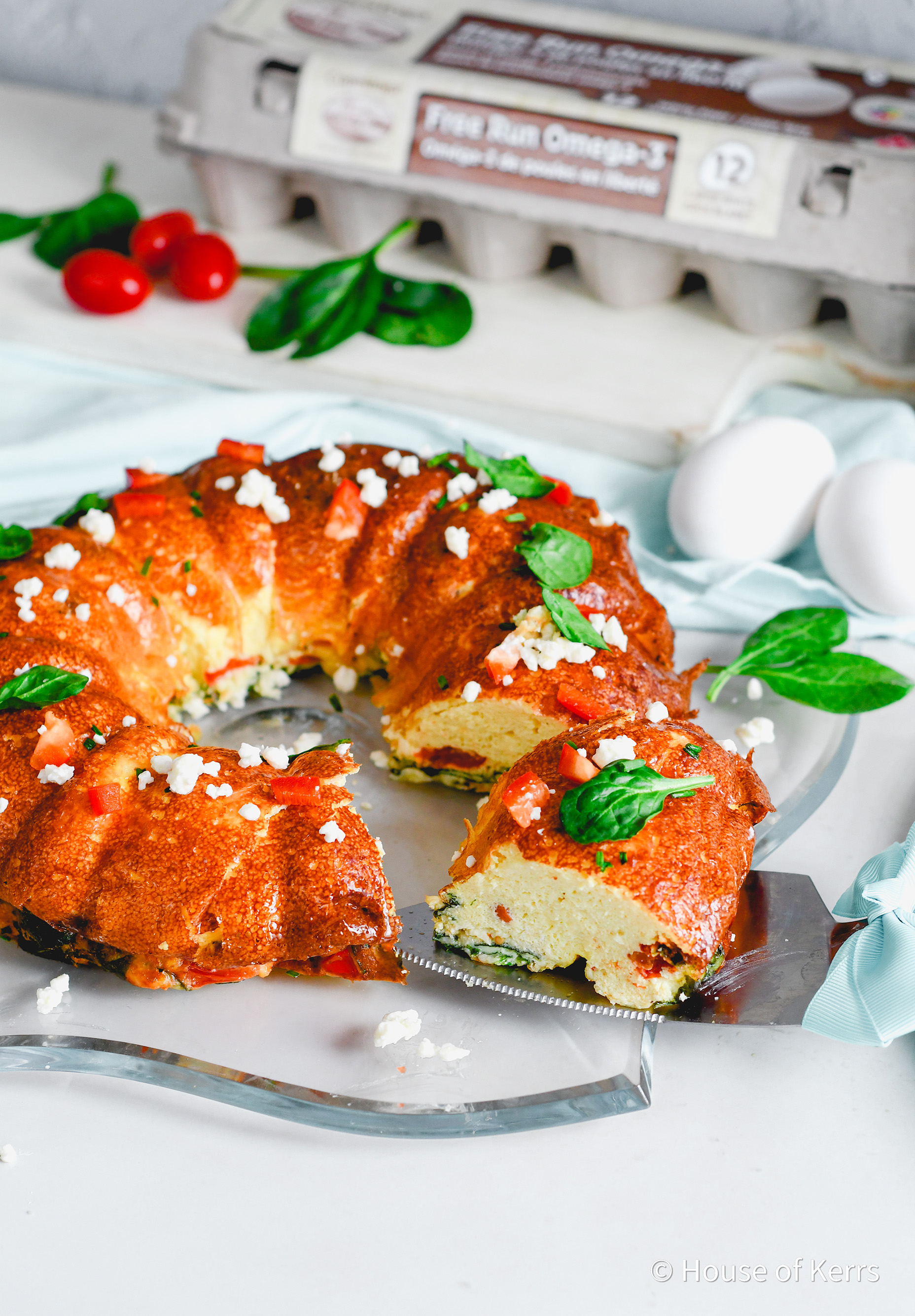 A simple, delicious, nutrient-packed dish made with Free Run Omega-3 Eggs, and your favourite Mediterranean-inspired veggies and cheeses.  Serve any time of day for your next family meal or slice up for your next gathering or celebration.  This Bundt-style egg bake is a beautiful addition to any brunch table. Recipe by @house_of_kerrs
Yield: 6 Servings
Ingredients
¾ cup Whole Milk  
1 tsp coarse salt 
1 tsp ground black pepper 
1 tbsp garlic powder 
2 tbsp olive oil 
1 cup grape tomatoes, sliced in half 
1 ½ cups baby spinach, torn in smaller pieces 
½ red bell pepper, diced 
¾ cup feta cheese, crumbled 
1 ½ cups mozzarella cheese, shredded 
Instructions:
Preheat oven to 375° F
Crack eggs into a mixing bowl, add milk, salt, pepper and garlic powder.  Whisk.
In a nicely oiled Bundt pan, add ½ of the veggies and ½ of the cheeses in circular motion to space evenly.  Pour your egg mixture overtop, then add remaining veggies, feta & mozzarella.  Gently stir until ingredients are evenly distributed in the Bundt pan.
Bake on middle oven rack 30 – 35 mins, or until egg edges turn golden brown.
Remove egg bake from oven and let cool 5-10 mins.  With a butter knife or similar tool, gently slide down the edges of the Bundt pan to unstick the egg bake.  Turn the Bundt upside down over your serving platter to release the egg bake.
Garnish the Mediterranean Egg Bundt with any lingering veg and cheese, slice and serve.  Enjoy!