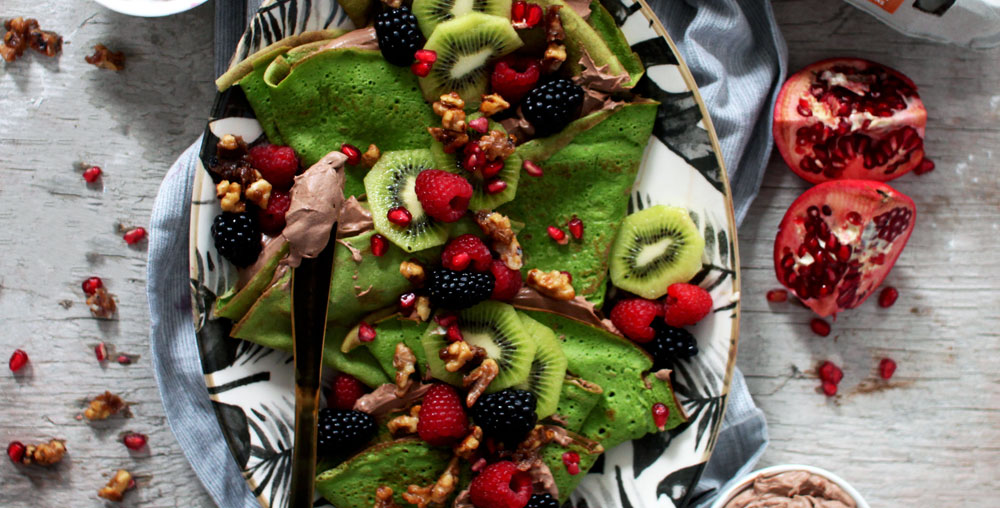 These Sneaky Hulk Crepes are loaded with spinach, Conestoga Farms Free Range Eggs and hemp hearts and are served with a chocolate whipped mascarpone filling and candied walnuts. Making them perfect for breakfast, lunch or dinner and they always get a huge thumbs up from kids, which is always an added bonus.
Print This Recipe
Ingredients
For the Crepe Batter
3 cups Spinach
1 Banana (the browner it is, the sweeter the batter)
3 Conestoga Farms Free Range Eggs
1 cup All-purpose flour
2 cups Milk (I use oat or almond, but any milk will work)
1 teaspoon Vanilla extract
¼ teaspoon Salt
½ cup Hemp hearts
For the Whipped Chocolate Mascarpone Filling
6 oz Mascarpone cheese
1 cup Heavy whipping cream
2 tablespoons Maple syrup
1 teaspoon Vanilla extract
¼ cup Cocoa
For the Candied Walnuts
1 cup Unsalted walnuts
1 tablespoon Water
2 tablespoons Brown sugar
1 tablespoon Honey
Instructions:
For the Crepes:
Place all of the ingredients in a high-speed blender and blend on high for 45 seconds until it becomes a smooth batter. If you find that it is too watery, place in the fridge for 30 minutes to allow to thicken up a bit.
To make the crepes, heat a 12-inch non-stick pan. You can coat it with cooking spray if you'd like, but I skip this step as I don't find I need it.
Pour about 1/3 cup (I soup ladle amount) of the batter into the centre of the frying pan and swoosh it around to spread it out evenly.
Cook for 40 seconds or so, until the bottom has cooked through and you can flip over. Then flip it over and cook for another 30 seconds or so, until they are fully cooked through.
Place on a plate and set aside. Continue until all the batter is gone. Makes approximately 10 crepes.
For the Mascarpone Filling:
Place all of the ingredients in a high-speed blender, or you can use an electric mixer and a large mixing bowl to make it.
Combine all of the ingredients together for 1 minute in a blender, or until it is thick and smooth and resembles the texture of icing.
Scoop out and place in the fridge until ready to use.
For the Candied Walnuts:
In a non-stick frying pan over medium heat, melt the brown sugar, water and honey until bubbling.
Add the walnuts, stirring thoroughly to coat.
Cook, stirring for 4-5 minutes, until fragrant and most of the liquid has evaporated.
Spread the walnuts into a single layer onto a parchment lined baking sheet and use a fork to separate them.
Set aside to let them cool.