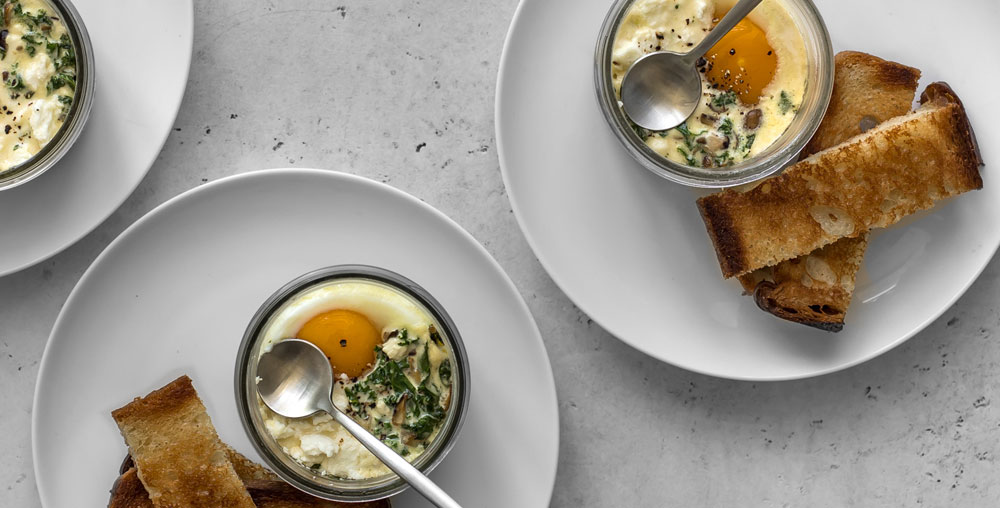 Made with the essential nutrients found in Conestoga Farms Free Run Omega-3 Eggs, caress your cravings with this Coddled Eggs recipe, courtesy of Chef Sous Chef. Complete with kale, mushroom, freshly ground pepper and delicious crumbled feta, you can serve or store this eggcellent summer eat in mason jars for enjoyment anytime, anywhere.
Print This Recipe
Ingredients
4 Conestoga Farms Free Run Omega-3 Eggs
1 tbsp olive oil
100 g mushrooms, finely chopped (see notes)
2 cups finely chopped kale leaves (see notes)
½ tsp Sea salt
½ tsp freshly ground pepper
3/4 cup heavy cream
1/3 cup + 4 tbsp crumbled feta
1/3 cup salted butter, room temperature
4 slices bread
Equipment:
4 half-pint wide-mouth mason jars
Deep skillet or large saucepan
Cast iron skillet or frying pan
Instructions:
To achieve the perfect water bath, place the coddling containers (in this case, 1 cup (250ml) wide-mouth mason jars) into a deep skillet or large saucepan. Pour water into the pan until it comes about three-quarters up the jars. Remove the jars and heat the water to a gentle boil.
Heat a skillet on medium-high. Pour in 1 tablespoon of olive oil and once it reaches high heat, add the 1 ½ cups of finely chopped mushrooms. Sautéé for 2 minutes, stirring often, and then add 2 cups of chopped kale. Season with salt and pepper, and continue to cook, stirring occasionally, until tender, about 3 minutes. Transfer to a bowl to cool.
Grease the inside of each mason jar with a light layer of butter. To the cooled mushrooms and kale, add 1/3 cup of crumbled feta cheese and ¾ cup of cream. Stir to combine.
Spoon two heaping tablespoons of the vegetables and cream into the base of each mason jar. Crack an egg directly on top and cover with the remaining vegetable and cream mixture. Sprinkle each with an additional tablespoon of feta.
Lower heat of the boiling water to achieve a gentle boil. Carefully place the mason jars into the water. Cook the eggs for 10 minutes, until the whites are set but yolks still soft.
While the eggs are cooking, butter both sides of the bread. Heat the skillet to medium-high and place the buttered bread in the pan. Fry the bread until golden and crisp on both sides, about 5 minutes total. Cut the fried toast into 1-inch strips.
When the eggs are cooked, carefully remove the jars from the water bath and dry any excess water. Sprinkle a few cracks of pepper on top and serve with the toast strips on the side.