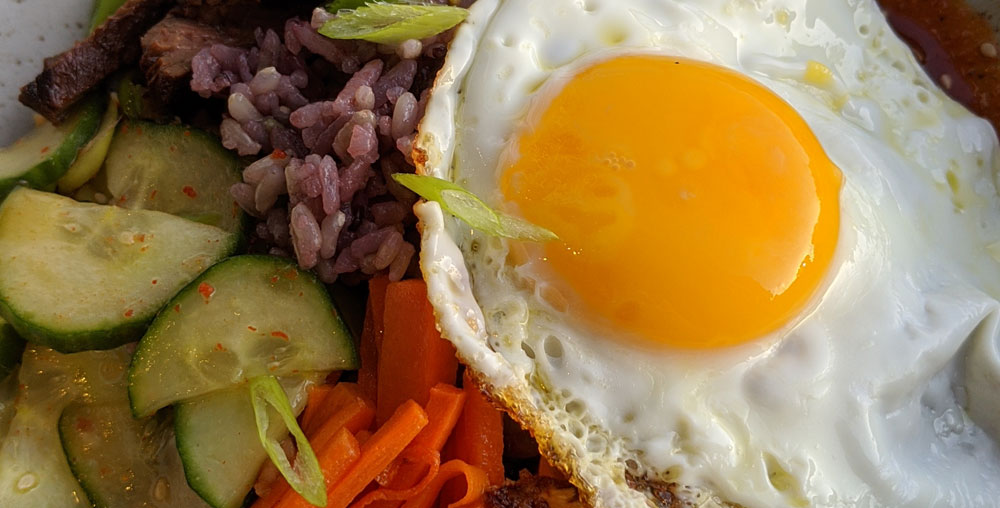 Taste a global way of enjoying eggs with Cheese Boutique's Afrim Pristine's Bibimbap recipe! Inspired by the traditional Korean dish, this is the perfect way to take your taste buds on an international holiday using local ingredients right in your own kitchen.
Yields: 2 servings
Print This Recipe
Ingredients
Korean Cucumber Salad
1 tsp kosher salt
1 tbsp crushed red pepper flakes
1 spring onion, thinly sliced
1 tsp garlic, grated or finely chopped
3 tbsp rice wine vinegar
2 tbsp white sugar
1 tsp sesame seeds
1 tsp sesame oil
1 English cucumber, sliced
Sautéed carrots
1 medium carrot
1 tsp sea salt
1 tsp cooking oil
Korean Flank Steaks
1.5lbs Korean flank steaks
2 scallions, roughly chopped
Korean Marinade
5-6 tbsp soy sauce
3 tbsp sugar
2 tbsp rice wine vinegar
4 tbsp pineapple juice
1 tbsp minced garlic
2 tbsp sesame oil
2 tsp sesame seeds
1/8 tsp fresh cracked pepper
Bibimbap Sauce
2 tbsp Sriracha sauce
1 tbsp sesame oil
1 tbsp white sugar
1 tbsp water
1 tbsp sesame seeds
1 tbsp apple cider vinegar or white vinegar
Rice:
Fried Egg:
2 Conestoga Farms Free Run Omega-3 Eggs
Instructions:
For the Korean Cucumber Salad: In a small bowl, whisk together salt, red pepper flakes, spring onion, garlic, rice wine vinegar, sugar, sesame seeds and sesame oil until sugar is dissolved. Toss in cucumber slices until fully coated. They will taste best if marinated in the fridge for 30- 45 minutes.
For the Sautéed Carrots: Rinse, peel and julienne carrots. Add salt and cooking oil in small pan and cook over medium/high heat for 2-3 minutes. Set aside
For the Korean Marinade: Combine all of the ingredients in a bowl and reserve for use.
For the Korean Flank Steaks: Marinade the flank steak for 1-2 hours. Grill in a high-heat pan for 20-22 minutes, rotating every 5 minutes. Take beef off heat and let rest for 5-7 minutes before slicing. Slice the flank steak at an angle against the grain. Toss cooked flank steak into marinade mixture again and add scallions. Toss gently to coat.
For the Bibimbap Sauce: Combine all the ingredients in a bowl and reserve for use.
For the Rice: Cook rice and reserve for use.
For the Fried Egg: Cook two sunny side up eggs and reserve for use.
For Serving: Assemble in a large bowl from left to right. Add the Korean cucumber salad, sautéed carrots, Korean Flank Steaks and rice. Top with the fried egg and drizzle bibimbap sauce all over.