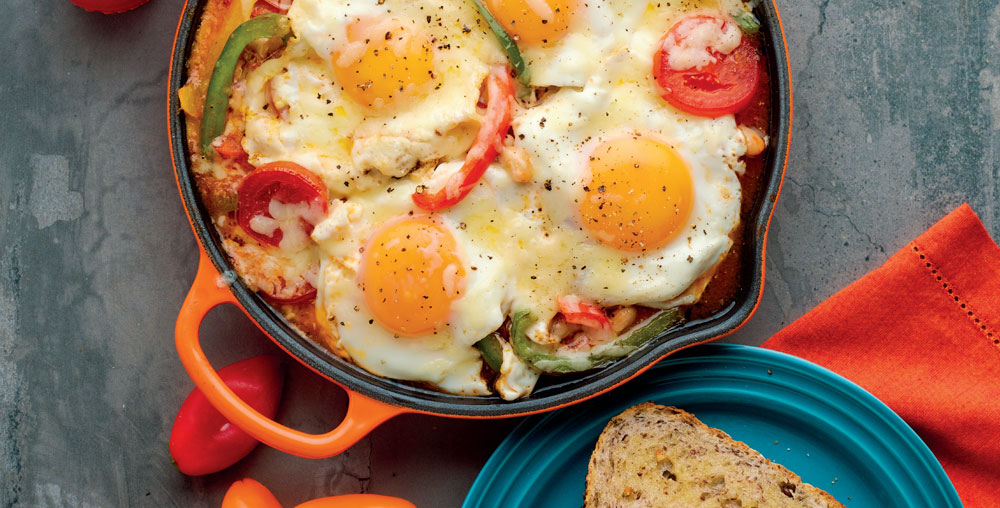 They say everything's bigger in Texas, but the flavour of our Southwestern Ontario-laid Conestoga Farms Free Run Omega-3 Eggs are up to the challenge! Declare a winner in your kitchen when you try this delectable Don't Mess with Texas Eggs recipe, created by Cheese Boutique's own Afrim Pristine. 
Prep: 15 Minutes
Cook: 20 Minutes
Serves: 6
Print This Recipe
Ingredients
½ Medium red bell pepper
½ Medium yellow bell pepper
2 tbsp Unsalted butter
1 Medium white onion, finely chopped
2 Garlic cloves, finely chopped
1 can White kidney beans, rinsed and drained
4 Medium plum tomatos, thinly sliced
1 tsp Chili powder
2 ½ cups Good quality tomato sauce
½ tsp Sea salt
½ tsp Freshly ground pepper
6 large Conestoga Farms Free Run Omega-3 Eggs
1 Crusty bread
Instructions:
Preheat the oven to 450°F (230°C).
Cut the three types of bell peppers into strips lengthwise.
In a 12-inch (30 cm) oven-safe skillet, melt the butter over medium heat.
Sauté́ the onion, garlic, and white kidney beans for approximately five minutes or until softened and starting to caramelize.
Add the bell peppers, tomatoes, and chili powder. Cook for an additional five minutes.
Pour the tomato sauce into the skillet, stir well, and bring to a boil.
Season to taste with salt and pepper.
Spacing them evenly around the skillet, crack the eggs, one at a time, into the skillet. Do not stir.
Top the mixture with Monterey Jack cheese, and place in the preheated oven. Bake for three to four minutes or until the cheese is golden brown.
Scoop the eggs and tomato sauce onto serving plates and serve immediately with crusty bread.
Excerpted from For the Love of Cheese: Recipes and Wisdom from the Cheese Boutique by Afrim Pristine. Copyright © 2018 Afrim Pristine. Photography copyright © 2018 Steven Elphick. Published by Appetite by Random House®, a division of Penguin Random House Canada Limited. Reproduced by arrangement with the Publisher. All rights reserved.