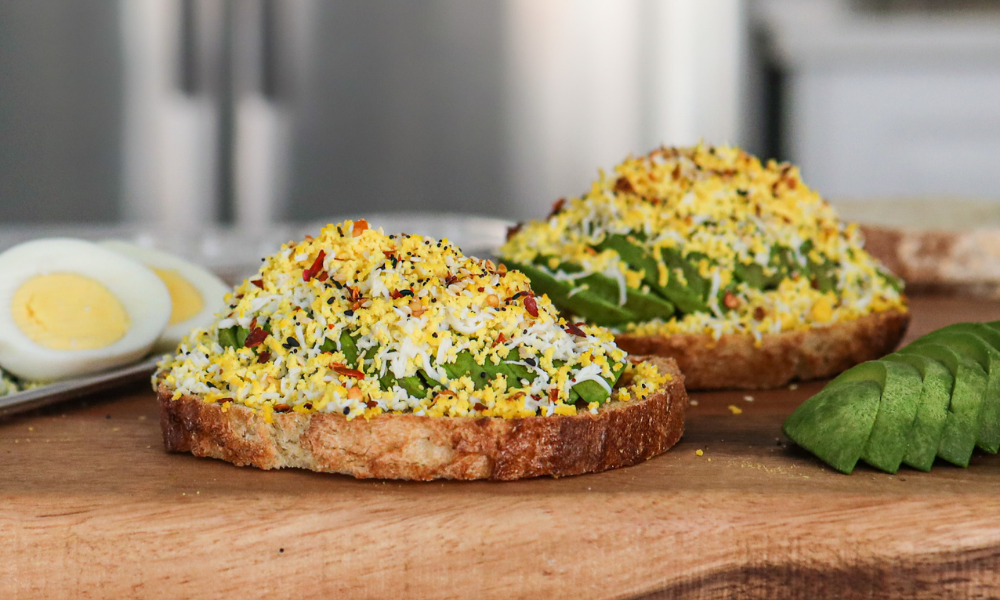 Silky. Smooth. Buttery. A winning recipe you can enjoy every single day! Our friend Lena Almeida showcases the trending Grated Egg Avocado Toast that everyone's talking about. To save even more time, try it with our Hard Boiled & Peeled Eggs!
Ingredients
2 Conestoga Farms Free Run Omega-3 Eggs
2 slices of Sourdough Bread
1 tsp Butter
1 ripe Avocado
Salt, Pepper & Lemon juice, to taste
Everything Bagel Seasoning, to taste
Red Pepper Flakes, to taste
Instructions:
1. Boil eggs for 10 minutes, cool and peel.
2. While eggs are cooking, toast sourdough bread to desired crispness and spread butter on one side while warm.
3. Cut, peel and thinly slice avocado; fan out each half on buttered side of toast.
4. Season to taste with salt, pepper and a squeeze of lemon juice.
5. Using a micro plane, carefully grate cooked egg over each slice of toast.
6. Finish with a generous sprinkle of Everything Bagel Seasoning & red pepper flakes.
7. Serve and enjoy!