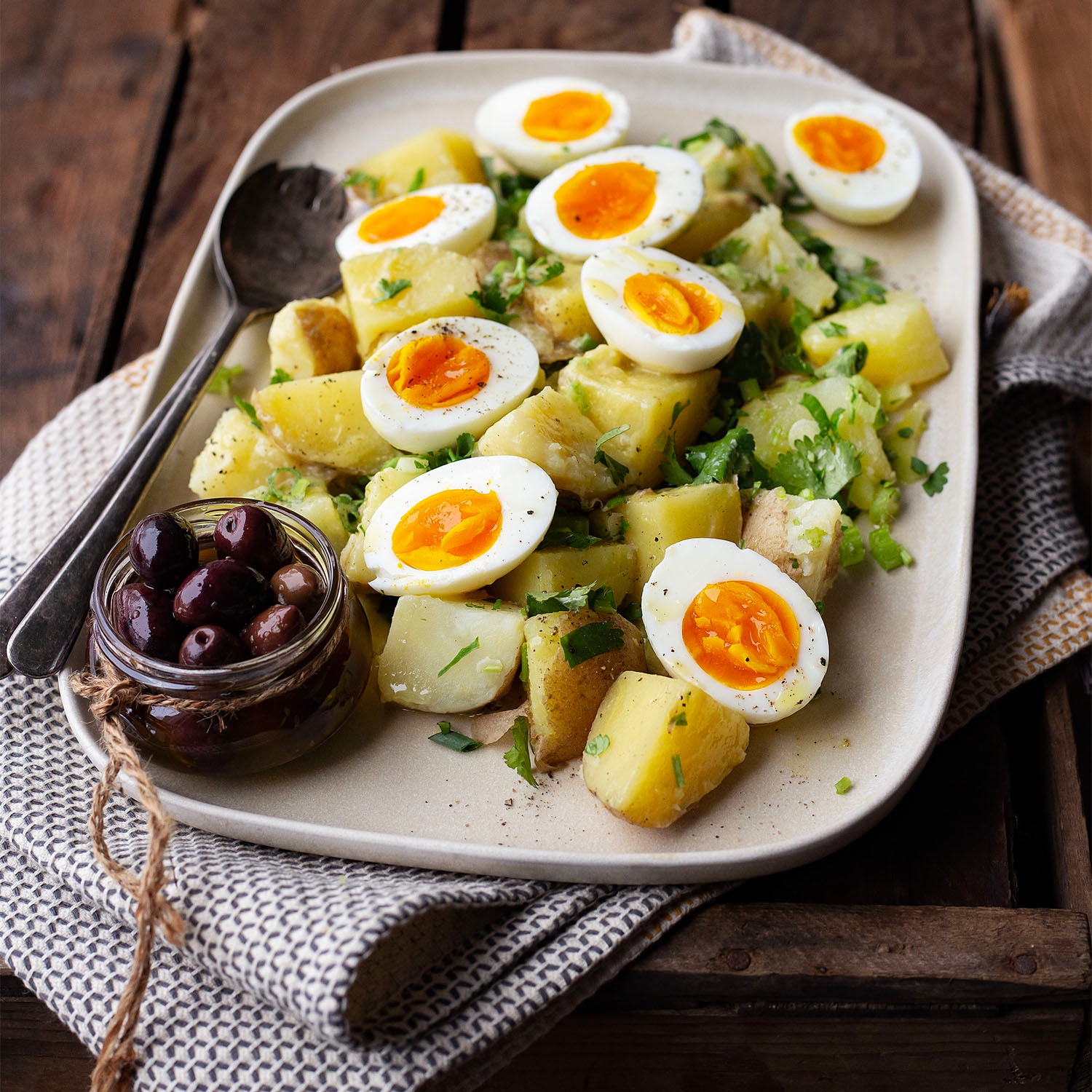 This Cypriot potato salad is simple and tossed in a creamy lemony tahini dressing making it a fresh and delicious healthy salad for lamb, chicken, fish or on it's for a vegetarian option. Topped with Conestoga Farms Free Run Omega-3 eggs for a boost of Omega 3 nutrients and a beautiful presentation. 
Yield: 4 Servings
Ingredients
6 large Conestoga Farms Free Run Omega-3 Eggs at room temperature
1.5 lbs Yukon Gold potatoes roughly the same size, with skin on and scrubbed 
1/2 cup celery with leaves, thinly sliced 
1/4 cup Green onions, thinly sliced 
1/3 cup fresh cilantro leaves and stems, finely chopped or substitute  Italian flat leaf parsley 
Fresh ground pepper 
Lemon Tahini Vinaigrette 
1/3 cup olive oil + extra for drizzling 
2 tbsp tahini 
3 tbsp lemon juice 
1 tsp dijon 
1 tsp salt 
Instructions:
Place potatoes in a large pot and cover with water. Bring to a boil and cook until fork tender, about 25-30 mins depending on size of potatoes. Drain and set aside to cool.
Fill another medium pot with  enough water to cover eggs and bring to a boil. Add eggs and bring to a boil for 7 minutes. Drain and put them in an ice bath to cool. Once cool, peel eggs and slice in half lengthwise.
Cut potatoes in bite size pieces and place in a large bowl. Add celery, onions and cilantro.
To make vinaigrette, whisk all ingredients together until creamy.
Toss salad with vinaigrette and add to serving platter.
Top with eggs and garnish with a drizzle of olive oil and fresh ground pepper.
Serve with olives and enjoy!