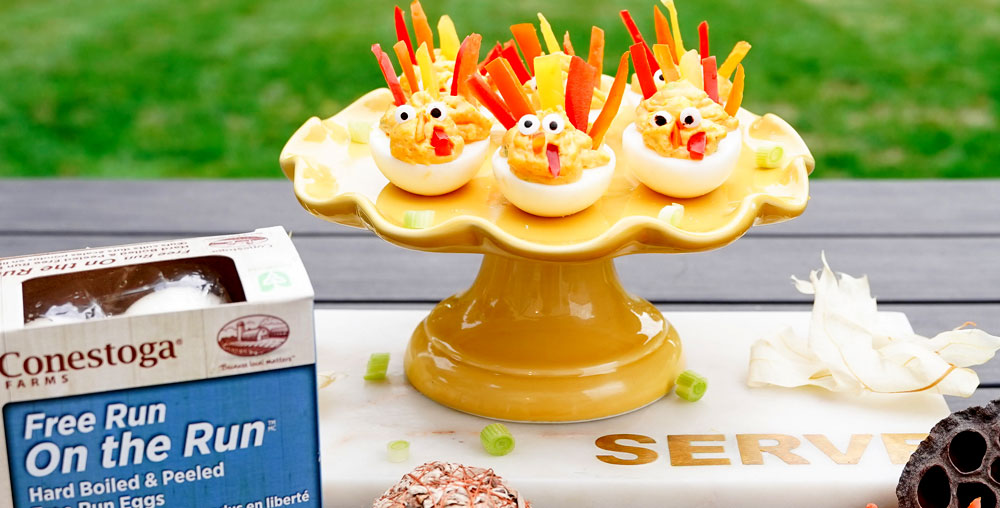 Great for your little turkeys at home, it's Turkey Deviled Eggs. A fun, new way to get kids egg-cited about Thanksgiving (and eggs!)
Serves: 4
Print This Recipe
Ingredients
4 Conestoga Farms Free Run On the Run Boiled and Peeled Eggs
1 Red pepper, thinly sliced
1 Yellow pepper, thinly sliced
1 Orange pepper, thinly sliced
½ cup mayonnaise
2 tsp paprika
1 green onion, chopped
¼ – ½ cup grated cheddar
Salt and pepper to taste
Eyes for the turkeys
Instructions:
Cut your Conestoga Farms Free Run On the Run Boiled and Peeled Eggs into halves. Remove yolks from the egg whites and place into a bowl.
With your egg yolks, add in mayonnaise, paprika, green onion (to your liking), grated cheese, salt and pepper! Mix together.
In a piping bag, fill up egg whites with the yolk mix.
Cut peppers to create a turkey tail, beak and add-on eyes.
Serve and enjoy!