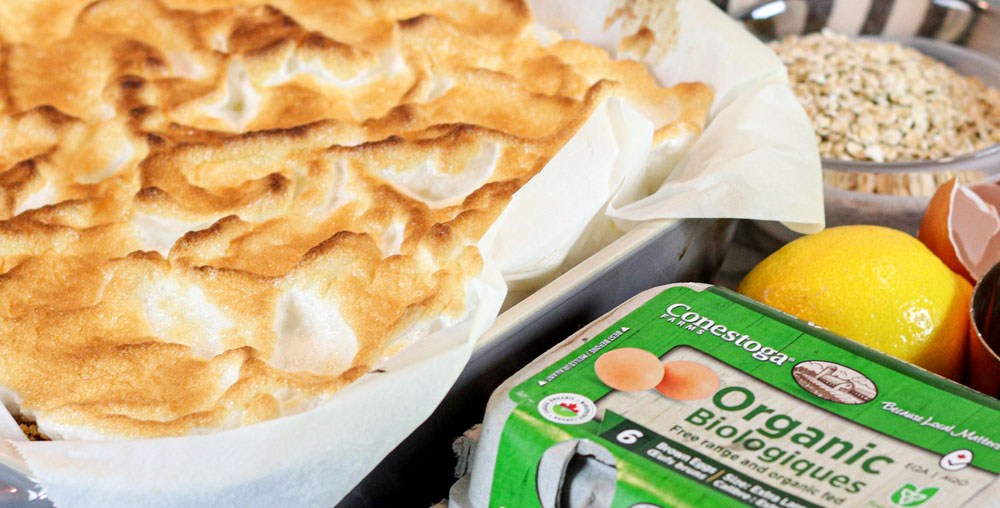 Don't wait for a holiday dinner or special occasion to enjoy the wonderful taste of lemon meringue. Treat yourself to the flavour of your favourite pie, with a healthy eggs 'n' oats twist, courtesy of our friend at Everyday Allergen Free!
Print This Recipe
Ingredients
Oat Bar Base
3 cups purity protocol gluten free rolled oats
1 tsp pure vanilla extract
½ cup maple syrup
½ cup unsweetened sunflower seed butter
2 tsp poppy seeds
2 Conestoga Farms Organic Eggs
A pinch of salt
Lemon Curd
1/2 cup lemon juice
6 Conestoga Farms Extra Large Organic Egg yolks
½ tsp Pure vanilla extract
½ cup powdered sugar
3 tbsp solid coconut oil or creamed coconut fat
Toasted Meringue Topping
6 Conestoga Farms Extra Large Organic Egg whites
½ cup powdered sugar
½ tsp pure vanilla extract
Instructions:
Prepare the oat bar base. Preheat the oven to 375F and line a square 8-inch baking dish or cake pan with parchment paper.
Add all of the oat bar ingredients to a medium mixing bowl and fold together until well combined and clumpy. Press the mixture into the lined baking dish, allowing it to go up the sides of the baking dish about a half inch to create a lip, as if you were shaping a pie crust. Bake for 25 minutes or until the edges are crispy and golden brown. Set aside.
Prepare the lemon curd. Set up a double boiler with a small saucepan and a medium sized metal bowl. Add all of the lemon curd ingredients to the bowl before placing it over the heated water. Once on the heat, whisk continuously until the coconut fat melts and the mixture becomes thick, viscous, and a little jiggly. As soon as the curd is thick and rich, take it off the heat and pour it into the cooked oat bar crust. Smooth it out and let chill in the fridge for about an hour, or until room temperature.
Prepare the meringue topping. Add all of the meringue ingredients to a large metal mixing bowl. Whip together using an electric beater until the egg whites for stiff peaks.
Spoon the meringue onto the cooled oat bar and lemon curd base. Make lots of peaks and valleys using the back of a spoon.
Preheat the oven to broil. Place the baking dish on the second highest rack and broil for 60 – 90 seconds, or until the peaks are golden brown with crisp edges. The time will vary depending on your oven so be sure to watch it closely.
Allow this golden-brown creation to cool enough to handle, then carefully lift out the parchment so you can cut the bars into squares.
After cutting – enjoy!