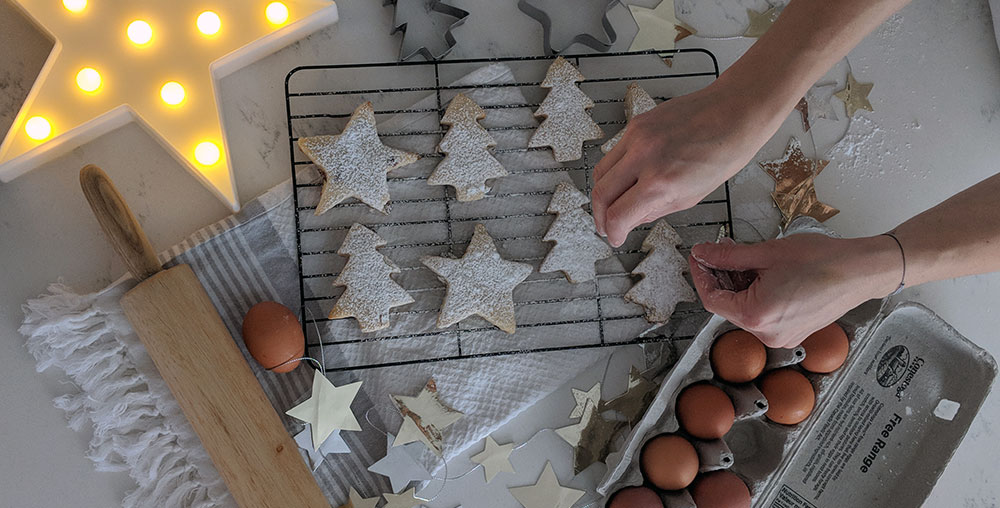 Have a holiday baking tradition with your family? Invite the goodness of Conestoga Farms into your kitchen this season with a brand new Cranberry Orange Christmas Sugar Cookie recipe from our friend Vanessa of @Josephineacreativelife.
Makes: 20 Cookies
Prep Time : 20 Minutes
Cook Time : 15 Minutes
Ingredients
3 cups of flour
½ tsp salt
1 ½ tsp
1 cup of butter, softened (I use salted)
1 cup granulated sugar
1 medium fresh, free range, Ontario-laid Conestoga Farms Egg
1 tsp Vanilla Extract
1 tsp Fresh Orange Zest
½ cup of dried cranberries
¼ cup icing sugar (for decorating)
Instructions:
Pre-heat the over to 350 degrees F. Line two baking sheets with parchment paper.
In a large bowl, whisk together dry ingredients – flour, salt and baking powder until well combined.
Using a mixer, cream sugar and butter then add egg and vanilla, then mix in the orange zest and cranberries.
Add the dry ingredients to the wet mixture slowly until it forms a dough. Once thoroughly combined, turn out the dough, forming it into a ball.
On a lightly floured surface, roll out your dough about ¼ inch thick and use Holiday cookie cutters to cut out your cookies (we used Christmas trees and stars). Place the cut-out cookies on your lined baking sheets, keep them spaced out.
Bake for 15 minutes, or until firm and lightly browned on the bottom. Let cookies cool on the baking sheets for about 5min and then transfer them on to a cooling rack.
Once the cookies have cooled, dust them with icing sugar.
Enjoy !