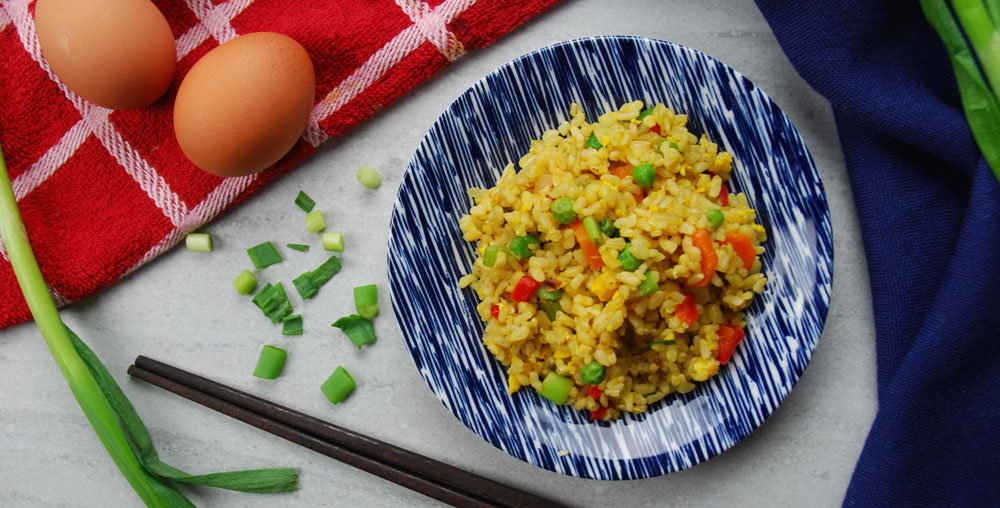 Ontario farm goodness meets Chinese deliciousness plus a fresh added source of essential nutrients; that's what you get when you make Michelle Jaelin's Vegetarian Chinese Fried Rice, complete with Conestoga Farms Free Run Omega-3 Eggs!
PREP TIME 20 MINS | COOK TIME 10 MINS | TOTAL TIME 30 MINS | SERVES 6
Print This Recipe
Ingredients
3 cups cooked, day old brown rice
4 large Conestoga Free Run Omega-3 Brown Eggs (divided)
¼ tsp paprika
¼ tsp turmeric
2 Tbsp water
3 tablespoon oil (divided)
1 medium onion, diced
1 red bell pepper, diced
1 medium carrot, diced
1 cup frozen peas, thawed
2 tbsps rice vinegar
1 ¼ tsp salt
¼ tsp sugar
14 tsp black pepper
2 green onions, chopped
Hot sauce (optional)
Instructions:
Using refrigerated day-old brown rice, break the rice clumps into individual grains.
Beat 2 Conestoga Farms Free Run Omega-3 Brown Eggs into a small bowl. Beat in the paprika, turmeric and water. Beat the other 2 eggs in a small bowl. Set bowls aside.
Heat a wok or large pan over medium high heat, add 2 tablespoons oil. Add the 2 beaten eggs without the spices. Scramble. Remove from heat and set aside.
Heat wok/large pan over high heat, add last tablespoon oil. Add onions, bell pepper and carrot. Stir fry for 2-3 mins. Add rice and stir fry for 2 minutes. Using your spatula, break up clumps and use a scooping motion to heat through all the rice evenly.
Pour the spice and uncooked egg mixture over the rice. Stir fry for approximately 1 minute. Coat all of the rice with the egg.
Add peas. Stir fry for another minute. Add rice vinegar, salt, sugar and black pepper and mix. You want to see steam coming off the rice, indicating it is fully heated through.
If you find there are still too many clumps of rice or it looks dry, sprinkle in water or stock. Mix in cooked scrambled eggs and green onion and serve!