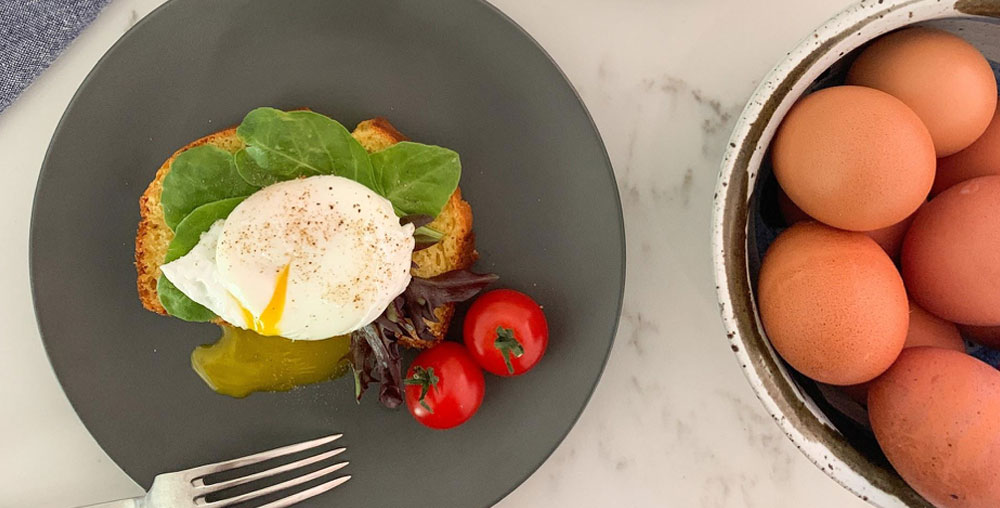 Still baking bread? Make the activity even more eggciting with this Gluten-Free Cornbread recipe from The Nutrition Junky! Created from all-purpose gluten-free flour, this cornbread is baked to golden brown, sliced and topped with your favourite spread, fresh veggies and three poached Conestoga Farms Free Range Eggs. Can you say, "YUM!"?
Print This Recipe
Ingredients
Cornbread
1 cup all-purpose gluten-free flour
1 cup cornmeal
2 tsp gluten-free baking powder
½ tsp salt
3 Conestoga Farms Free Range Eggs
3 tbsp honey
½ cup almond beverage or alternative nut/oat beverage
¼ cup vegetable oil
½ cup coconut yogurt or alternative yogurt
Poached Eggs
Conestoga Farms Free Range Eggs
1-3 tbsp white vinegar, optional
½ tsp salt
½ tsp pepper
Instructions:
Preheat oven to 425°F. Add flour, cornmeal, baking powder and salt in a large bowl. Whisk until combined. Whisk together 3 eggs, honey, almond beverage, oil and yogurt. Fold in wet ingredients into the dry ingredients with a spatula until there are no clumps. Pour mixture into an 8-inch loaf pan lightly greased with oil. Bake for 30-40 minutes or until a toothpick comes out clean from the centre of the bread. The top should be golden brown in colour. Allow the cornbread to sit in the loaf pan for 30 minutes.
In a small to large sized pot fill (small for 1-3 eggs; medium for 3-6 eggs; and large for 6-8 eggs) ¾ with water. Bring to a boil over high heat. Once the water boiling, add 1-3 tbsp of vinegar to the water (1 tbsp for a small pot, 2 for medium pot, 3 for large pot). Then crack the eggs into the boiling water. Immediately turn off the heat and cover the pot for 3-4 minutes for runny eggs and 5 minutes for hard-boiled eggs. Remove the eggs from the water with a slotted ladle or spoon.
Slice with a serrated knife and serve. Top with butter or other spreads, fresh vegetables and poached eggs. Sprinkle with salt and pepper.