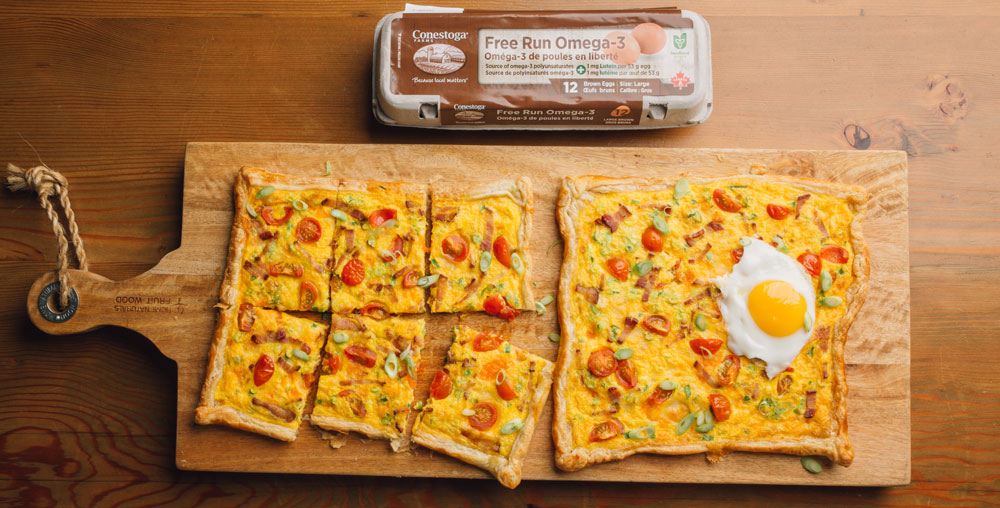 Wake 'n' bacon with Conestoga Farms Eggs and our latest morning recipe, courtesy of How to Eat's Erin MacGregor; the Bacon and Egg Breakfast Tart! Made from creamy and sharp cheeses, fresh cherry tomatoes, onions, puff pastry, bacon and our Free Run Omega-3 Eggs, we're making breakfast eggciting again, one tart at a time!
Yield: 6 Servings
Ingredients
1 sheet/square frozen puff pastry (thawed)
2 Free Run Omega-3 eggs (whisked, plus 2-3 additional eggs)
125 g creamy cheese, like mozzarella. Gruyere or harvarti (about 1 cup, grated)
60 g sharp cheese, like old cheddar or parmesan (about 1/2 cup, grated)
3 green onions, thinly sliced and divided
3 slices thick cut bacon (cooked until tender/crisp and chopped)
½ cup cherry tomatoes, halved
Instructions:
Preheat oven to 400F. On a lightly floured surface, roll out puff pastry to about 12"x 14" and transfer to a parchment lined baking sheet. Poke rolled pastry with a fork all over.
Brush outer edge of pastry with whisked egg. Fold over ½" of pastry around outer edge. Brush the top of the folded edge with more of the whisked egg.
Bake pastry for about 8-10 minutes, until edges are just starting to lightly brown (pastry may puff up in the middle. Press the centre down gently with the back of a spatula to flatten). Allow to cool slightly.
Meanwhile, in a small bowl, mix remaining whisked eggs, cheeses and ½ the green onions. Spread this mixture evenly over pastry.
Top mixture with tomatoes and bacon. Return to oven for 2-3 minutes until cheese is melted.
Working quickly, crack remaining eggs gently over pastry. Return to oven and cook for 6-8 more minutes until egg whites are set, and the yolks are still soft. Sprinkle with remaining green onions and serve.