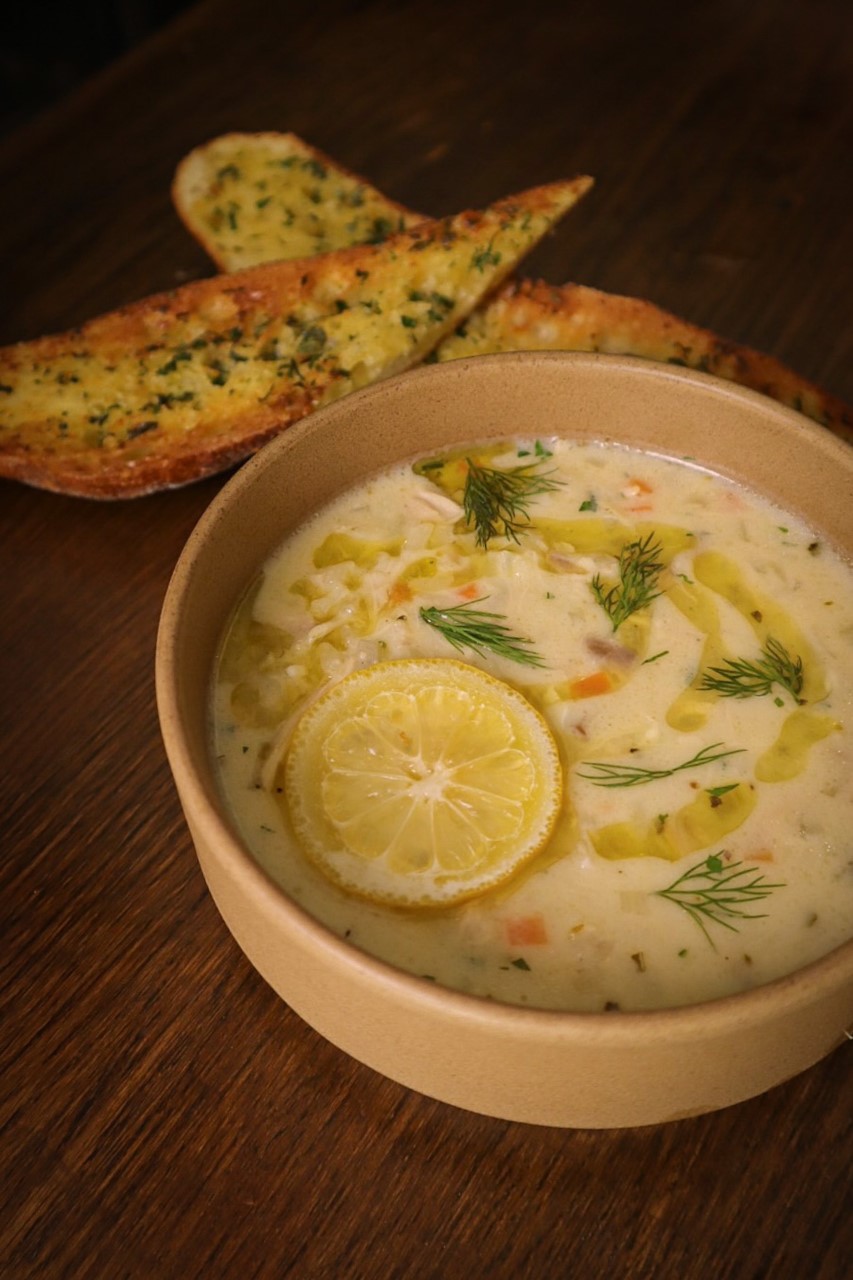 Sam Medeiros shares an old time favorite recipe from her Greek culture, Avgolemono. The word literally translates to Egg/Lemon, and despite also being the name of an eggy/lemony sauce, it is also the name of a classic soup containing rice (or orzo), cooked chicken, and mirepoix.
Yield: 2 Servings
Ingredients
2 whole Conestoga Free Range Eggs
1-piece Chicken, whole 
1-piece Yellow Onion 
1-piece Carrot 
2 stalks Celery 
2 cloves Garlic 
2 liters Water (8 cups) 
1/2 cup Short Grain Rice 
1-2 pieces Lemon, juiced 
2 whole Conestoga Free Range Eggs 
1 tsp Dried Oregano Salt & Pepper to Taste 
Dill, Parsley, Olive Oil to Garnish 
Instructions:
Break down the whole chicken, and place into a pot with 1/2 the onion, carrot, celery and garlic. Cover with cold water and bring to a boil. Allow to simmer for 3 hours, then remove from heat. 
Remove all chicken meat from the pot and set aside. Strain remaining stock and vegetables, then return strained broth to the pot. Season with salt and pepper, and add in 1/2 the lemon juice. Bring to a boil, add in the short grain rice, and reduce to a simmer. Small dice remaining half of vegetables and add to soup mixture.  
In a separate bowl, crack 2 whole Conestoga Free Range eggs and whisk in the remaining lemon juice. Set aside. 
Chop up the reserved chicken meat and add back to the soup. Taste, adjust seasoning, and check to see if the rice is cooked. 
Remove soup from the heat and slowly stir in the lemon juice/egg mixture. This will thicken the soup. Adjust seasoning one last time then ladle into bowls, and garnish with lemon slice, fresh herbs, olive oil, and fresh ground pepper to finish.