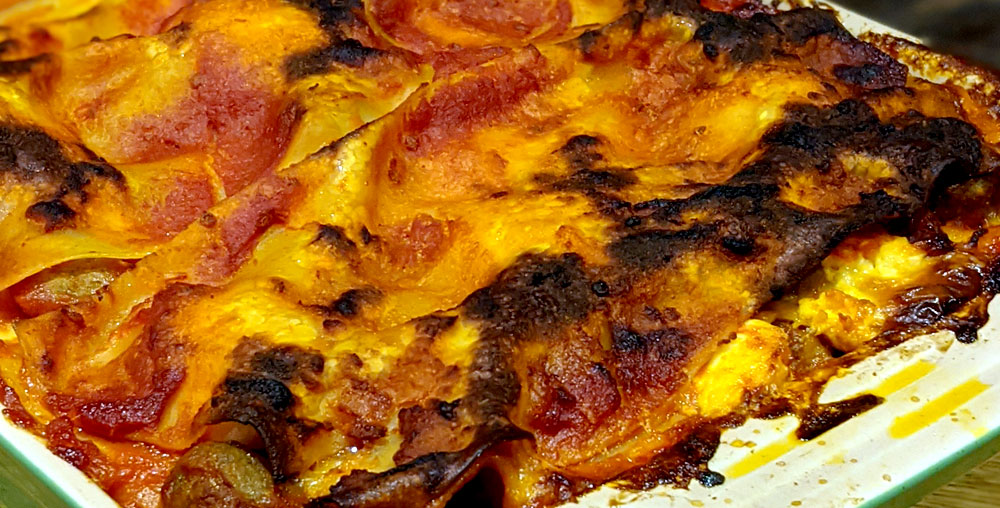 A classic Neapolitan recipe from Mrs. Pristine, Afrim's own mother and favourite home cook, this multi-generation lasagna recipe touches on the rustic, family-style history and tradition of Naples' cultural cuisine, right down to the must-add hard boiled egg.
"For me, if there's no boiled egg in lasagna, then it's not really lasagna"
Serves: 6
Print This Recipe
Ingredients
Sauce:
24 oz passata
28 oz diced canned tomatoes
1/3 tomato paste
2 garlic cloves
1/2 cup olive oil
3 tsps salt
A few basil leaves
Alternative: Good quality store bought tomato sauce
Meatballs:
1/2 cup breadcrumbs
1 1/2 lbs lean ground beef
1 Conestoga Farms egg (normal)
1/2 grated Parmigiano reggiano cheese
2 tsps salt
1/2 cup milk
Vegetable oil for frying 
Lasagna:
12 Conestoga Farms eggs, hard boiled & quartered
1 1/2 lbs lasagna sheets, pre-boiled
1 lb fresh ricotta
6 oz Parmigiano reggiano or grated piave cheese, grated
10 oz mozzarella, grated
Instructions:
Sauce:
Place all ingredients in a large pot.
Add 2 cups of water and bring to a boil. Then let simmer for 1 hour.
Remove from heat and discard basil and garlic
Meatballs:
Soak the breadcrumbs in the milk. Combine wet breadcrumbs with all other ingredients except for vegetable oil which is for frying.
Mix ingredients together and shape the meatballs into mini globes.
Add vegetable oil to large skillet and fry meatballs on high heat. They will cook in 3 minutes.
Then remove and transfer to paper towel lined plate to cool
Lasagna:
Spread sauce on bottom of baking dish. Then layer the lasagna sheets.
Spread 1/3 of ricotta over the top followed by a layer of meatballs.
Layer 1/3 of boiled Conestoga egg pieces, a sprinkling of mozzarella and a few spoonfuls of sauce. Add a sprinkling of Parmigiano reggiano. 
Bake in 350 degree oven for 1 hour or until the top is golden brown and starting to crisp up.
Take lasagna out of the oven and let cool for 20 minutes before cutting into it.
Once out of the oven as well, cover loosely in tin foil.
Cut Into 6 large pieces, put on nice plate and add a touch more sauce, grated cheese and boiled egg to garnish.