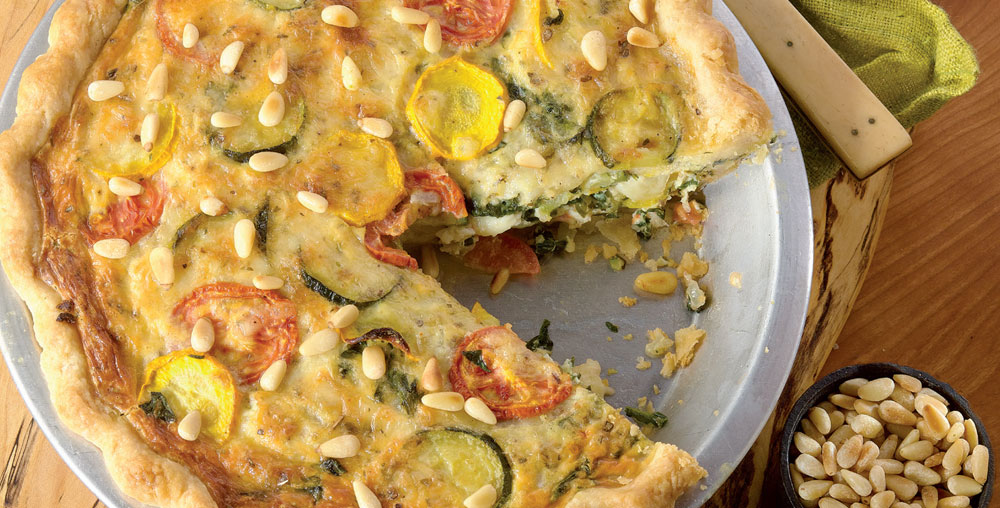 Made with the famously aromatic Italian Fontina Cheese and the humble, Ontario-laid Organic Eggs of Conestoga Farms, feed your family's eyes, noses and bellies with Cheese Boutique's Afrim Pristine's This Quiche Doesn't Stink recipe!
Prep: 15 Minutes
Cook: 45 Minutes
Serves: 4
Print This Recipe
Ingredients
1 cup Spinach
½ cup Pine nuts
4 Conestoga Farms Organic Eggs
¾ cup 35% Cream
½ tsp Sea salt
¼ tsp Cayenne pepper
¼ tsp Ground nutmeg
½ tsp Dried basil
¼ tsp Dried oregano
½ cup Grated fontina cheese
3 tbsp Extra-virgin olive oil
1 small White onion, finely chopped
1 Clove garlic, finely chopped
1 Small green zucchini, thinly sliced
1 Small yellow zucchini, thinly sliced
4 1⁄2 oz Bocconcini cheese, sliced 1⁄3 inch (8 mm) thick 3 slightly underripe plum tomatoes, thinly sliced
1 Prebaked pie shell (9 inches/23 cm)
4 Leaves fresh basil, finely chopped
Instructions:
Preheat the oven to 350°F (180°C).
In a medium sauté́ pan, sauté́ the spinach (no oil needed) over medium heat for two to three minutes or until bright green. Remove the spinach from the heat and allow to cool. Coarsely chop,and set aside.
In a small sauté́ pan, give the pine nuts a gentle toss over medium heat. Evenly toast the pine nuts until golden brown all over—make sure to watch them carefully, because they can burn quickly. Remove them from the heat and set aside to cool.
In a medium mixing bowl, combine the eggs, cream, salt, cayenne pepper, nutmeg, dried basil, oregano, and fontina cheese. Beat the ingredients with an electric mixer for 3 minutes at medium speed, until light and frothy.
In a frying pan, heat the extra-virgin olive oil over medium heat. Sauté́ the onions, garlic, zucchini, and cooked spinach for 3 to 4 minutes or until the vegetables have softened slightly. Remove from the heat.
Arrange the bocconcini cheese slices, tomato slices, and sautéed vegetables in the bottom of the pie shell. Pour the egg mixture over the vegetables.
Place the quiche into the preheated oven and bake for 30 minutes or until golden brown. The center of the quiche should have a little jiggle to it when it's done.
Remove the quiche from the oven, and garnish with basil and toasted pine nuts.
Serve hot.
Excerpted from For the Love of Cheese: Recipes and Wisdom from the Cheese Boutique by Afrim Pristine. Copyright © 2018 Afrim Pristine. Photography copyright © 2018 Steven Elphick. Published by Appetite by Random House®, a division of Penguin Random House Canada Limited. Reproduced by arrangement with the Publisher. All rights reserved.