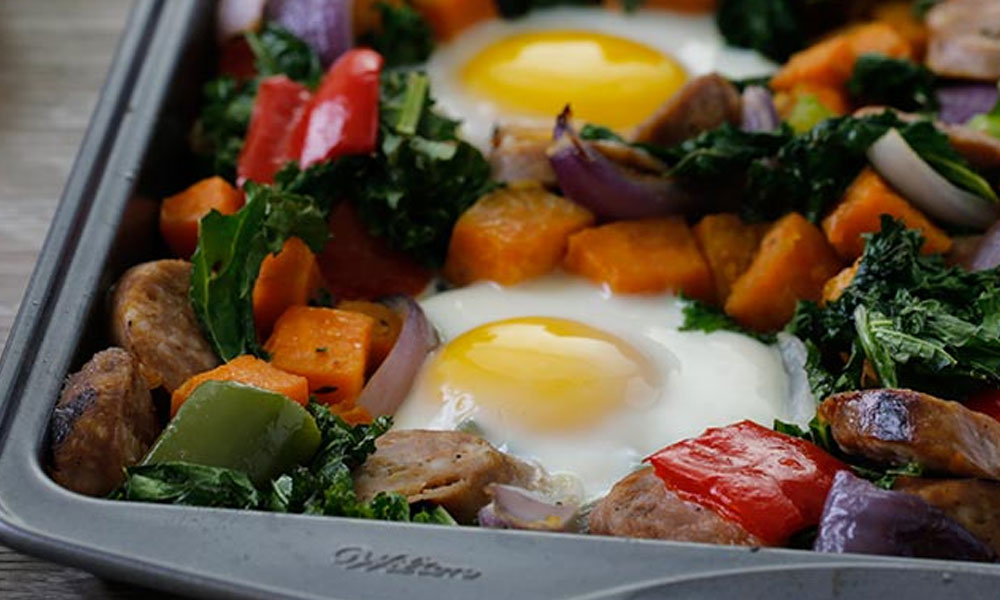 This super easy Sweet Potato Hash is prepared, baked, and served on one pan! This complete breakfast is veggie rich and full of protein, making it a hearty and satisfying way to start the day. It makes a great dinner too!
Makes: 6 Servings
Prep Time: 15 Minutes
Cook Time: 30 Minutes
Ingredients
3 cups 1/2-inch (1 cm) peeled, cubed sweet potatoes (2 small)
1 large red onion, cut into small wedges
1 sweet red pepper, cut into large pieces
1 sweet green pepper, cut into large pieces
2 tbsp olive oil
1½ tsp fresh thyme leaves, minced
½ tsp each salt and pepper
3 sausages, cooked and sliced 1/4-inch (0.5 cm) thick
3 cups chopped stemmed kale (about 3 large leaves)
6 eggs
Optional
fresh chopped parsley
½ cup crumbled feta cheese
Instructions:
Preheat oven to 400°F (205°C). Line large 12 x 17-inch (30 x 43 cm) rimmed baking pan with parchment paper.
Place sweet potatoes, onion, and peppers on pan. Drizzle with olive oil and sprinkle with thyme, salt and pepper; toss to combine. Spread out in single layer. Bake until sweet potatoes are tender, about 15 minutes.
Add sausages and kale to the pan. Bake for 5 minutes, or until kale starts to soften and wilt.
Remove pan from oven. Using back of a spoon, make 6 wells in the vegetables; gently crack 1 egg into each. Bake until egg whites are set, about 7 minutes. Gently shake baking sheet to check softness of yolks. If hard yolks are desired continue to bake for an additional 5 minutes.
Garnish with parsley or crumbled feta cheese, if desired.
Tips:
Easily substitute flash frozen kale for the fresh kale.
Use a spicy Italian or smoked sausage for extra flavour.
For perfect sunny-side up eggs, separate the egg whites from the yolks when you crack the egg. Add egg whites to the well first, then gently lay the yolk on top of the whites.