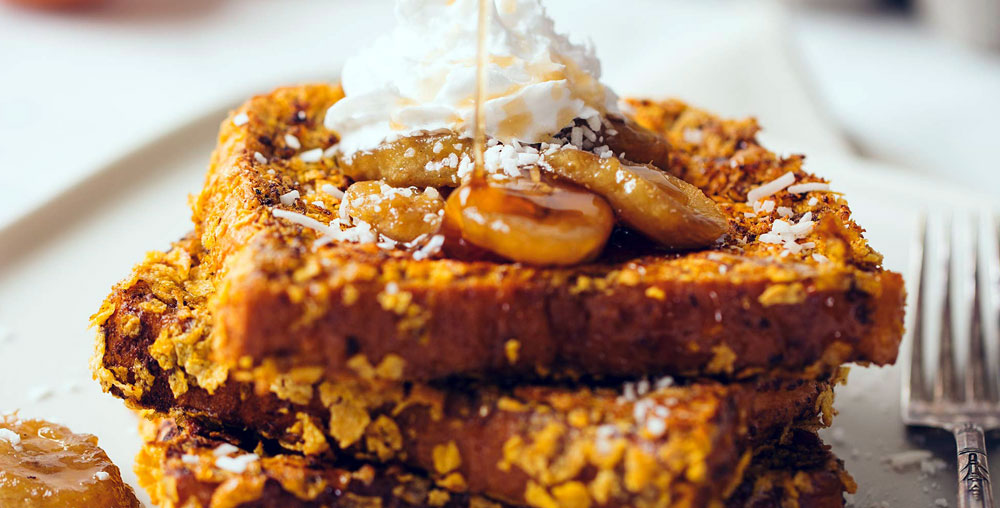 Beautifully buttery brioche bread is dipped in an egg mixture featuring Conestoga Farms Free-Run Omega 3 Eggs before being crusted in crushed Corn Flakes. Frying in a cast iron pan with butter will help give this French toast a nice crispy coating.
Prep Time: 10 min
Cook Time: 20 min
Total Time: 30 min
Yield: 4-5 servings
Ingredients
Crispy French Toast
1/2 cup Corn Flakes, crushed
5 Conestoga Farms Free-Run Omega 3 Eggs
1/8 cup milk
1/2 tsp ground cinnamon
1/4 tsp each ground allspice, ginger, nutmeg, cloves
8-10 slices brioche bread
4 tbsp butter
Brown Sugar Bananas
4 large, ripe bananas, sliced
1/4 cup brown sugar
2 tbsp water
Toppings
2 tbsp shredded coconut
Coconut whipped cream
Ontario maple syrup
Instructions:
Crispy French Toast
Pour Corn Flakes into a shallow bowl and using the bottom of a glass, gently crush flakes until they reach your desired consistency. Set aside.
In a shallow bowl whisk together Conestoga Farms Free-Run Omega 3 Eggs, milk, cinnamon, allspice, ginger, nutmeg, and cloves. Allow each slice of brioche to soak in mixture for 10 seconds on each side. Transfer each slice of egg-soaked brioche to bowl with crushed corn flakes, pressing each side gently into the flakes.
In a large cast iron pan (or non-stick frying pan) over medium-high heat, melt 1 tbsp of butter. Working in batches of two, cook French toast 3-4 minutes on each side, or until nicely browned and crispy. Repeat with remaining butter until no more toasts remain.
Remove from pan and top with brown sugar bananas, 1/2 tbsp shredded coconut, coconut whipped cream, and a generous pour of Ontario maple syrup.
Brown Sugar Bananas
To a large non-stick frying pan, over medium heat, add brown sugar and water. Swirl until sugar starts to dissolve and bubble.
In a single layer, add sliced bananas. Continue to cook, swirling pan so bananas don't stick and sugar doesn't burn, for 1-2 minutes. Gently flip each slice of banana and continue to cook for another minute. Remove from heat.
Divide brown sugar bananas between the 4-5 plates of French toast. Enjoy!
Notes: Try using French bread instead of brioche for a different flavour profile.