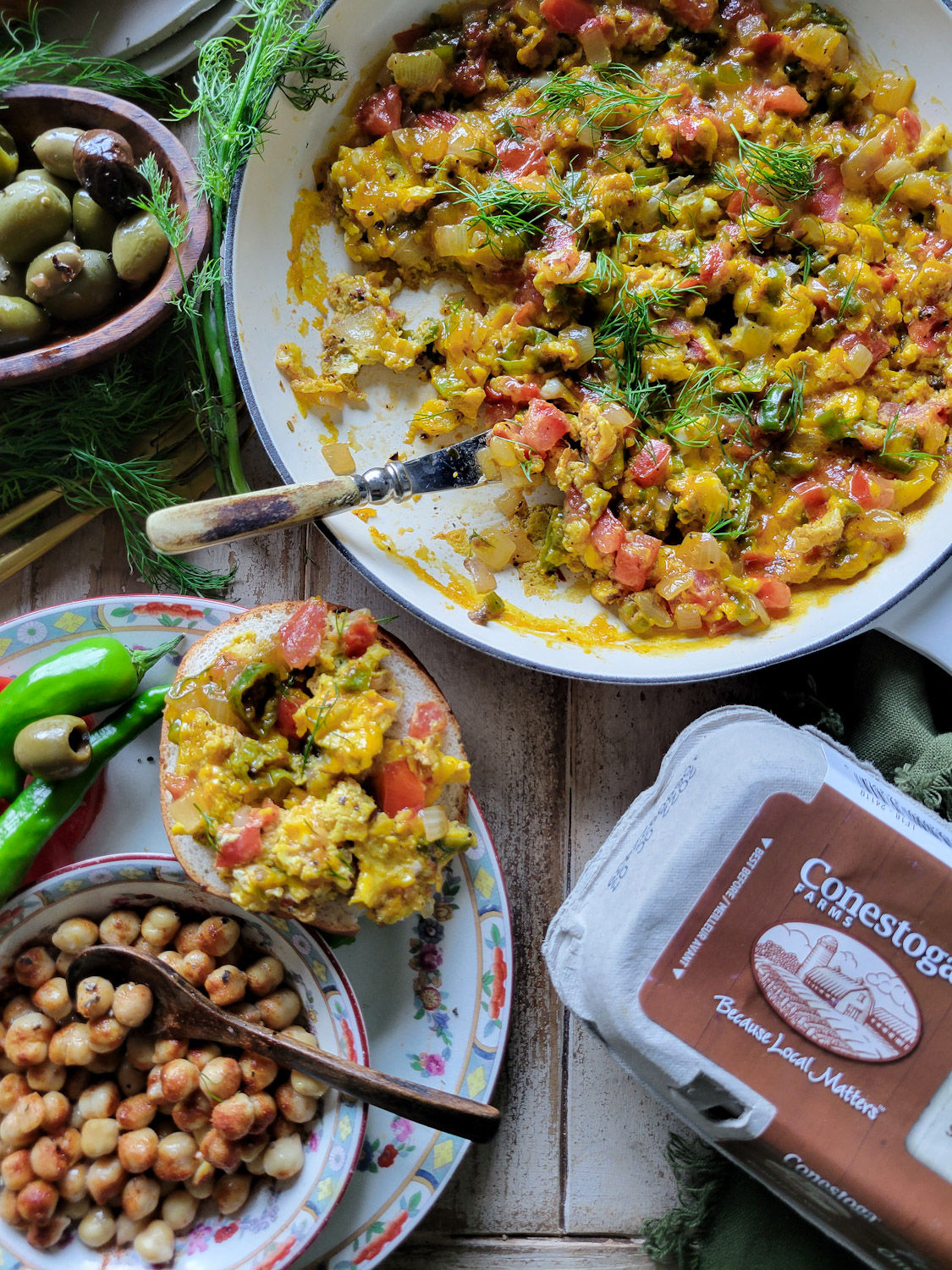 Turkish Scrambled Eggs with Tomatoes, Shishito Peppers and Aleppo.
Yield: Serves 4
Ingredients
2 Tbsp extra virgin olive oil, plus more for finishing
1 Tbsp butter
3/4 cup diced yellow onion
3/4 cup finely chopped Shishito peppers (can substitute green bell pepper if needed)
1/2 tsp dried oregano
1/2 tsp Aleppo pepper or to taste (can substitute paprika if needed)
kosher salt and black pepper
1 cup chopped Roma or cherry tomatoes (can also use small can of diced tomatoes with juices)
6-8 large Conestoga Eggs (depending if you want a more egg or sauce based ratio)
Chopped fresh dill or parsley
Crushed red pepper flakes for finishing
Crusty bread for serving
Instructions:
Method
In a large nonstick or seasoned cast iron skillet, heat olive oil and butter over low heat until warm.

 

Add the onion, and peppers. Stir till starting to soften. Season with the oregano, Aleppo pepper, a generous pinch of salt and black pepper.

 

Cook, stirring until the vegetables are softened and warmed through, about 5-7 minutes. They should still hold some shape.

 

Add tomatoes and continue to sauté, stirring till the tomatoes are completely warmed through and softened, about 5 more minutes.

 

While the vegetables are cooking, beat the eggs in a bowl with a splash of water and a pinch of salt.

 

Gently pour in the beaten eggs evenly over the cooked vegetables. Let the eggs set up for about 20 seconds, and then start folding the eggs and the vegetables together, bringing the edges into the middle for even cooking. For the traditional recipe, cook till the eggs are soft, barely but evenly set. They will continue cooking in the residual heat when you remove the pan from the heat. Do not stir everything too well, you want to see some of the vegetables distinctly throughout the eggs. Yes, you can cook further, to your desired level of doneness.

 

Drizzle the dish with olive oil.

 

Garnish with the chopped dill or parsley, sprinkle some more Aleppo and red pepper flakes to finish.

 

Serve with crusty bread to soak up the saucy eggs.