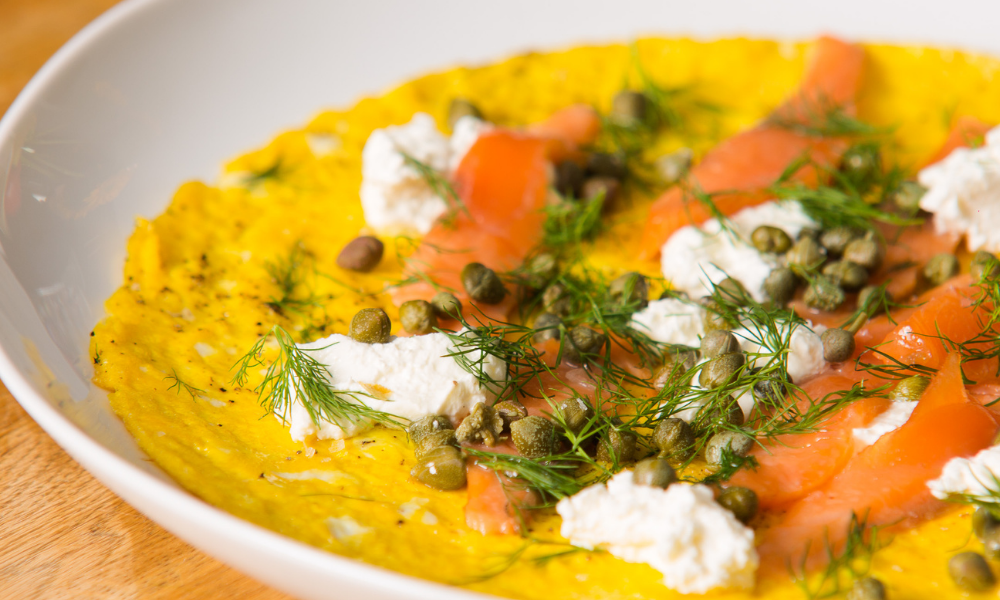 Taking inspiration from his trip to France, Afrim Pristine creates a light and fluffy omelet. Even better? It's open faced so there's no flipping involved, only enjoying!
Ingredients
3 Conestoga Farms Free Range Eggs
100g fresh cream cheese
A small handful of dill
A small handful of capers
100g thin sliced smoked salmon
Crusty baguette
50g salted butter
Salt and pepper, to taste
Instructions:
Melt butter in a large pan on medium heat.
Crack Conestoga Farms Free Range eggs and stir together with fork in a separate bowl.
Pour egg mixture into pan and cook on one side for about 4-5 minutes or just before it turns golden brown. Do NOT flip this omelet.
About 3 minutes into cooking your egg mixture, add dollops of cream cheese on top, scattering throughout the top of the egg.
Add smoked salmon, dill, and capers to the egg mixture in a similar way to the cream cheese. It should be an even proportion of all ingredients scattered on top of the egg.
Season with salt and pepper and gently slide the omelet onto a plate, slowly to keep its shape.


 

Enjoy with a crusty baguette.