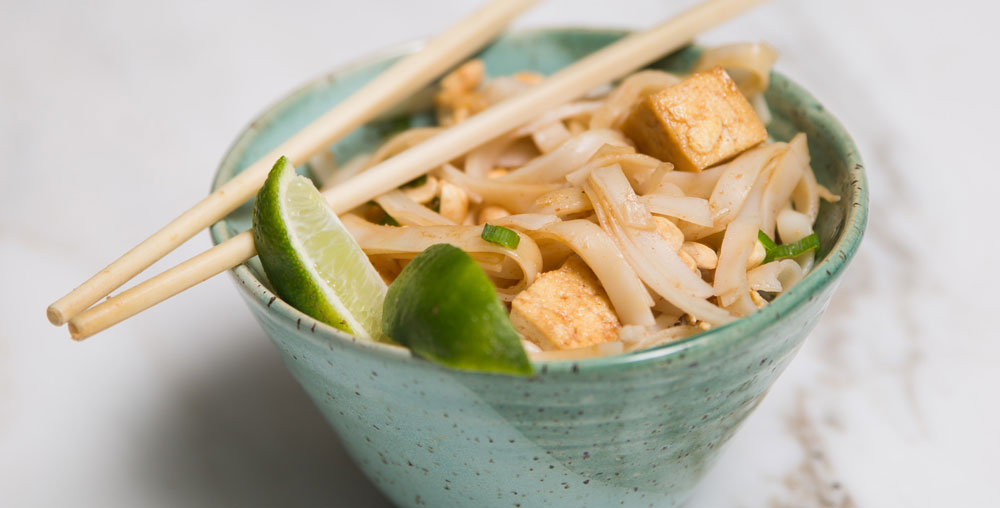 Ready for a more protein-packed pad Thai? Look no further than this tofu-rific recipe from Bite Me More! Topped with a homemade sauce and made from fresh vegetable oil, shallots, cloves, bean sprouts, green onions, peanuts, parsley, limes and our Free Range Omega-3 Eggs, you can rise and Thai anytime with tofu pad Thai!
Yield: 24 Servings
Ingredients
Rice Noodles
3lbs Dried rice stick noodles
Tofu Pad Thai Sauce
1 cup Chicken broth
1 cup Brown sugar
6 tbsp Fresh lime juice
6 tbsp Tamarind paste
3 tbsp Soy sauce
3 tbsp Fish sauce
2 tsp Sriracha sauce
Tofu Pad Thai
4 tbsp Vegetable oil, divided
3 (12oz pkgs) Firm tofu, pressed dry between paper towels, cut into bite-sized pieces
1 cup Shallots, chopped
3 large Garlic cloves, minced
9 Conestoga Farms Free Range Omega-3 Eggs, White, lightly whisked
6 cups Bean sprouts
10 Green onions, finely chopped
2 cups Roasted peanuts, chopped
3/4 cup Flat leaf parsley, chopped
4 Limes, cut into wedges for serving
Instructions:
Place rice noodles in a large bowl and cover noodles with boiling water. Let soak until softened, about 10-15 minutes or according to package directions. Drain noodles and rinse under cold water, drain and set aside.
While the rice noodles are soaking prepare the pad Thai sauce. In a medium bowl whisk chicken broth, brown sugar, lime juice, tamarind paste, soy sauce, fish sauce and Sriracha sauce together, set aside.
In a large skillet heat 2 tablespoons oil over medium-high heat. Add tofu and cook 5 minutes, until golden. Add shallots and garlic, continuously stirring for 2 minutes. Push tofu and shallot mixture to the side of the skillet and add remaining 2-tablespoons oil. Stir in the Conestoga Farms Free Run Omega-3 Eggs and scramble until nearly cooked, 1-2 minutes. Add rice noodles and sauce, cook, gently stirring for 2 minutes. Add bean sprouts and green onions, toss to combine and heat through, about 1 minute. Remove from heat and add 1 cup of roasted peanuts.
Place Pad Thai in a bowl and garnish with chopped parsley, remaining chopped peanuts and lime
Enjoy!