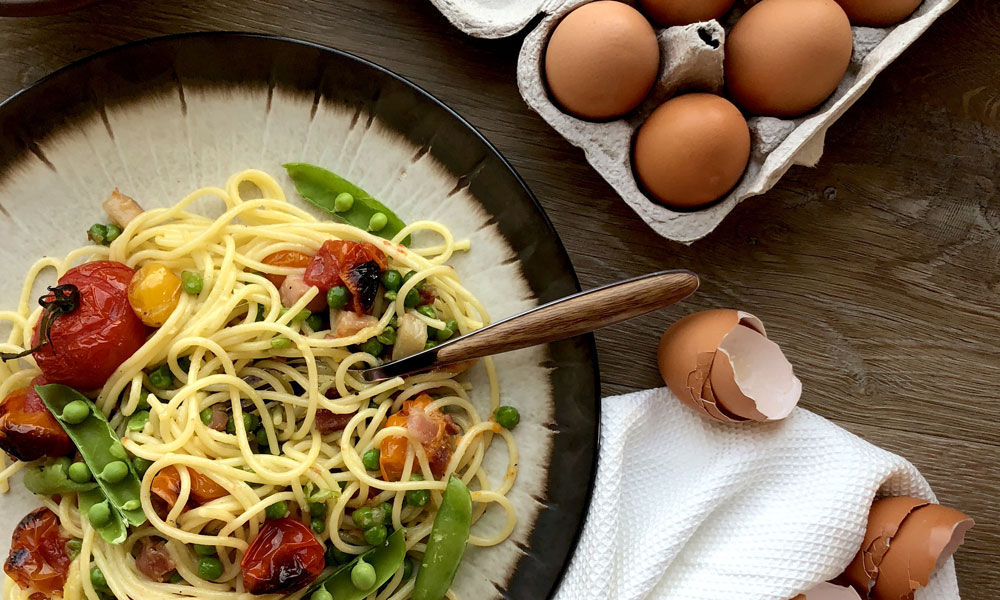 Get crackin' on a new flavour adventure in your kitchen with this tasty Carbonara recipe by our friends the Sneaky Mommies, complete with the silky taste and feel of Conestoga Farms' Free Run Omega-3 Eggs!
Serves: 6
Prep time: 10 minutes
Cook time: 45 minutes
Ingredients
For the Tomatoes:
3 cups cherry tomatoes
½ teaspoon salt
½ teaspoon pepper
¼ teaspoon brown sugar
2 tablespoons olive oil
For the Carbonara:
300 grams pancetta, diced
1 ½ cup peas
1 tablespoon olive oil
4 garlic cloves, minced
5 Conestoga Farms Free Run Omega-3 Egg Yolks
½ cup shredded Parmesan, plus more for serving
¼ teaspoon pepper
400 g spaghetti
Instructions:
Preheat oven to 420F. Line a baking sheet with parchment paper. Add all the ingredients for the tomatoes on it and toss to coat. Bake for approximately 10-15 minutes or until tomatoes are starting to burst and brown slightly. Remove from oven and set aside.
In a small bowl whisk together the 5 egg yolks, shredded Parmesan cheese, and ¼ teaspoon pepper then set aside.
Cook pasta according to package, in well-salted water.
Meanwhile over medium heat in a saucepan, heat the 1 tablespoon olive oil. Add the pancetta, and fry until starting to crisp, about 5 minutes, stirring often. Add in the garlic and stir together for 1 minute, or until nicely fragrant, being carful not to burn the garlic. Add the peas, and continue to cook together for another couple minutes, until peas are soft and warm.
Add the pasta to the pancetta mixture and toss to coat. Remove pan from heat. Stir in the egg yolk mixture and mix until well combined. Then add in the tomatoes, and stir together. Season with salt. Serve with additional Parmesan cheese. Enjoy!
Photography courtesy of the Sneaky Mommies.