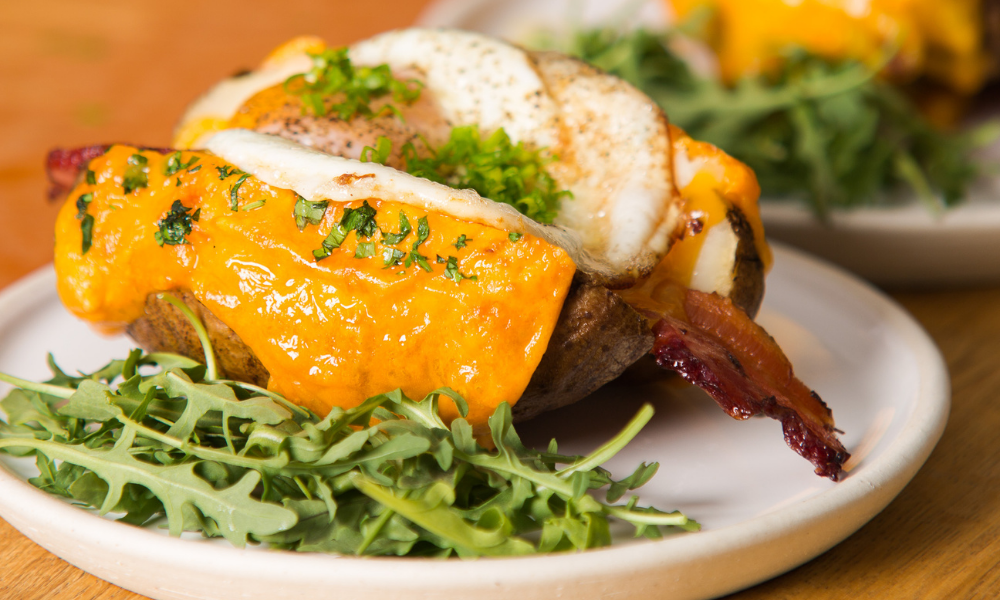 A hearty and rich breakfast that highlights the great ingredients of Canada and issure to get you ready to start your morning
Ingredients
2 perfectly cooked Sunnyside up Conestoga Farms Free Run Omega-3 Eggs
2 fully cooked basked potatoes
slices crispy cooked bacon
100g grated orange Canadian cheddar
A small handful of finely chopped chives
2 small handfuls of fresh baby arugula
40g salted butter
A couple splashes of good quality olive oi
Instructions:
Warm your oven to 375 F.
Make a cut into the baked potatoes from north to south, keeping the potatoes together. You want to be able to open the potatoes like a book.
Add 2 slices of bacon, half the grated cheddar to each potato in that order starting from the bottom.
In a large frying pan on medium high heat, add butter and melt to coast the pan.
Crack Conestoga Farms Free Run Omega-3 eggs for Sunnyside up texture and consistency. Cook for about 4-5 minutes or until golden brown on the bottom side of the eggs. Just before taking the pan off heat, add a few pinches of salt and pepper to the top of the eggs. Take the pan off the heat and keep to the side.
Gently add the cooked Sunnyside up egg on top of the cheddar.
Place potatoes into the oven and warm for about 7 minutes.
Place potatoes into 2 plates and finish garnishing the potatoes with chives, salt and pepper.
Add arugula to the side of the potato and drizzle olive oil onto the arugula with a touch of salt. Enjoy!