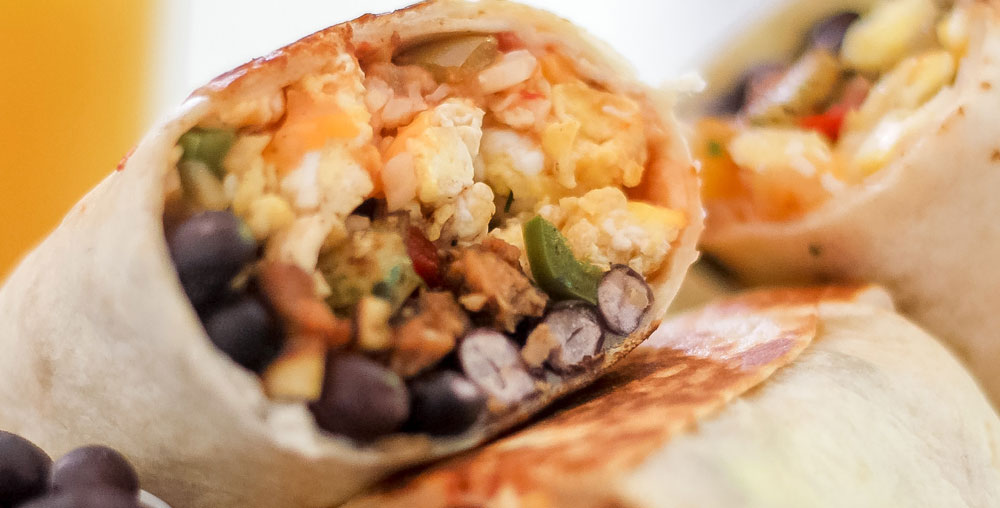 Wake your taste buds from their siesta, it's Tex-Mex time in your kitchen! Because every and any day can be burrito day. This egg-citing recipe is courtesy of The Seasoned Skillet.
Print This Recipe
Ingredients
8 Conestoga Farms Free Run Omega-3 White Eggs scrambled (approx. 2 eggs/ burrito)
5 Italian Sausage minced (optional)
½ tsp Chili Powder
½ tsp Cumin
1 tsp Taco Seasoning
½ can Black Beans rinsed and drained
½ large Potato finely chopped
½ Red, Yellow & Green Bell Peppers finely chopped
½ large Yellow Onions finely chopped
1 cup Tex Mex Shredded Cheese
½ cup Salsa more for dipping
¼ cup Cilantro chopped (optional)
¼ tsp Salt & Pepper more to taste
4 – 5 Large Tortilla Wraps
Instructions:
Finely chop potatoes, bell peppers, and onions.
In a large skillet or non-stick pan, add a touch of neutral tasting cooking oil, and sauté potatoes until fork tender and starting to brown. Remove from skillet, transfer to a bowl and set aside.
Add onions, and peppers, sauté for about 2 mins. remove from skillet, transfer to a bowl and set aside.
Whisk eggs, salt and pepper in small bowl. Melt butter in skillet over medium heat.
Pour egg mixture into skillet and reduce heat to medium-low. When the eggs begin to set, scramble eggs. Cook until eggs are thickened, and no liquid egg remain. Do not overcook your eggs! Remove from skillet, transfer to a bowl and set aside.
Add the sausage to the skillet, ensure it is broken up (minced), add the chili powder, cumin, and taco seasoning. Stir well and cook for approx. 5 minutes until the meat has browned. Transfer to a bowl, set aside.
Wipe away any brown and burnt bits from the pan with a paper towel.
Assemble the wraps by layering ingredients on the tortilla wrap. Start with the hash brown potatoes, sausage, and black beans. Continue with the scrambled eggs, cheese and cilantro, then roll them up tightly – use a toothpick to secure the ends if necessary. Repeat with remaining ingredients.
Place the rolls seam side down onto skillet, over medium heat, toast until cheese has melted and golden brown on the centre of both sides.
Serve immediately and enjoy!