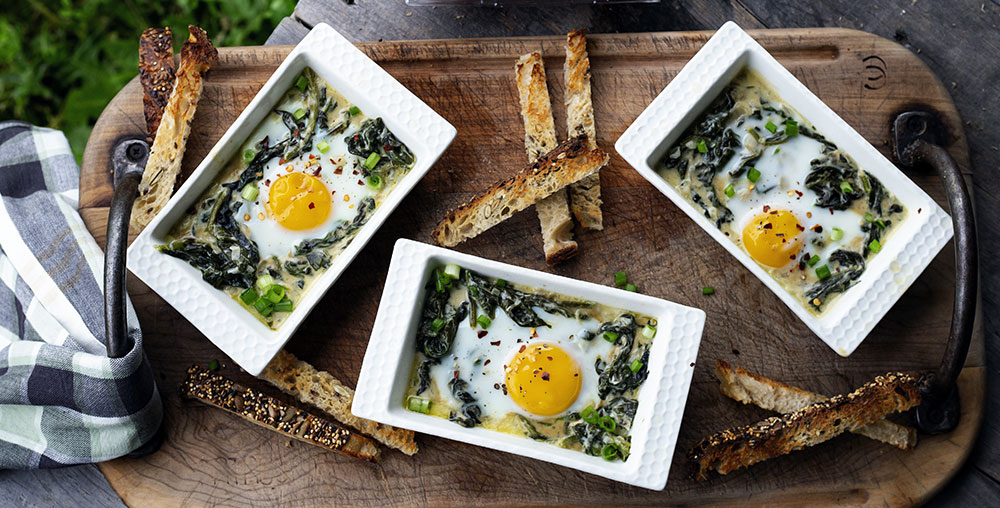 Local eggs,  mega flavour! That's how we feel, and what we taste, when we prepare these Spinach and Crème Fraiche Coddled Eggs, made with fresh, locally-laid Conestoga Farms Organic eggs. Garnish with green onions & chilli flakes, if desired, and serve with toasted sourdough bread. Mmmm, egg-cellence! 
Serves: 4
Prep time: 30 mins
Cook time: 10 mins
Print This Recipe
Ingredients
2 tbsp unsalted butter + extra for buttering ramekins
1 large shallot, minced
1/2 cup low sodium chicken stock
1 cup crème fraîche
4 cup spinach, roughly chopped
1/2 tsp salt
1/2 tsp fresh ground pepper
4 Conestoga Farms Organic eggs
Garnish
Green onions, thinly sliced
Dry chilli flakes (optional)
Instructions:
Preheat oven to 400 F. Lightly butter four 1 cup oven proof ramekins.
Heat a large sauce pan over medium heat. Add 2 tablespoons of butter and shallots. Cook stirring occasionally until shallots have softened, about 2-3 minutes.
Add chicken stock and bring to a boil. Cook for 2 minutes until stock has reduced by half.
Add the crème fraîche and stir until brought to a boil. Reduce heat and simmer for 2 minutes.
Add spinach to the cream mixture and season with salt and pepper. Let simmer until spinach has slightly wilted, about 2 minutes.
Divide mixture amongst the 4 buttered ramekins and crack an egg in each of the centre of the ramekins.
Place the ramekins in a roasting pan and fill with enough hot water to come halfway up of the ramekins.
Place in preheat oven on the middle rack and bake for 8 to 10 mins until eggs have cooked to your prefer doneness.
Garnish with green onions and chillies if using. Serve with toasted sourdough bread cut into soldiers.