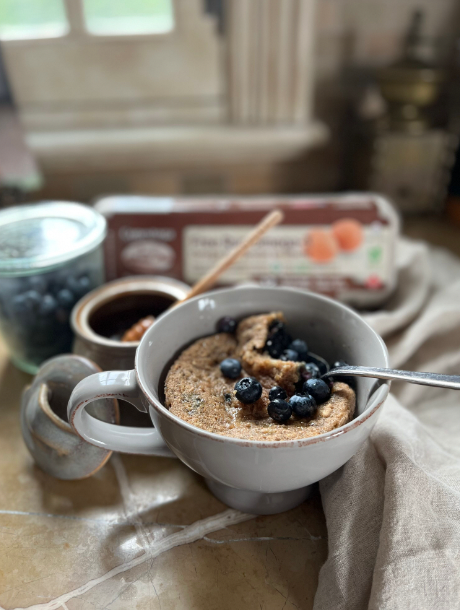 The classic diner breakfast sandwich just got easier to make, thanks to the sheet pan! Sautéed green peppers, onion and diced ham are the essential flavour makers. This recipe will feed 6 people, or more depending on how you slice up the finished baked eggs. Serve between toast with cheese and hot sauce, or slice up and freeze for future on-the-run breakfasts.
Ingredients
1 medium overly ripe banana, mashed (about 1/3 cup mashed)
1 tablespoon melted coconut oil
1 tablespoon honey (plus more for serving)
1 large Conestoga Free Run Egg
1 teaspoon vanilla extract
¼ cup oat flour (or all-purpose flour)
½ teaspoon baking soda
¼ teaspoon ground cinnamon
¼ teaspoon kosher salt
¼ cup blueberries (plus more for serving)
Instructions:
In a bowl, mash your banana and then add your coconut oil, honey and egg and mix until combined. Add the flour, baking soda, cinnamon, and salt, mix until just combined.
Fold in the blueberries.
Pour the batter into a large microwave-safe mug. Microwave on high for 1 ½ to 2 minutes – it's better to "underbake".
Eat warm with a drizzle of honey and extra blueberries. Enjoy!