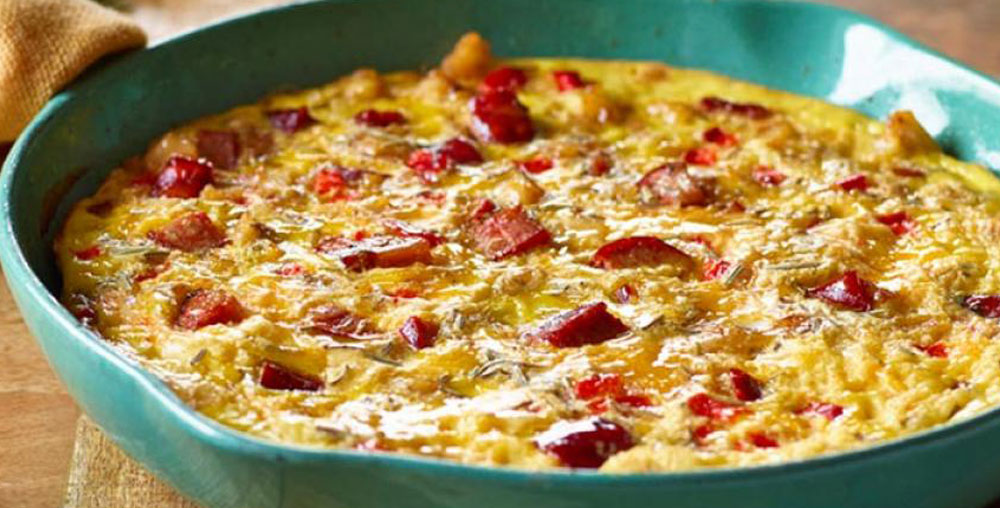 Inspired by the Spanish tortilla, this simple skillet frittata can be served for brunch or a light meal. Serve with a green salad.
Makes: 6 Servings
Prep Time: 10 Minutes
Cook Time: 20 Minutes
Print This Recipe
Ingredients
⅛ cup olive oil
1 ½ cups frozen hash browns
6 ¼ oz dry-cured chorizo sausage, casing removed and cubed
½ cup sweet red pepper, diced
1 tsp dried rosemary
⅓ tsp regular or smoked paprika
¼ tsp onion powder
6 eggs
¼ tsp garlic powder
¼ tsp salt and pepper
Instructions:
Pre-heat oven to 350°F (180°C).
In a medium non-stick, oven-proof skillet or cast-iron skillet, heat oil over medium-high heat. Add hash browns and cook, stirring often, for about 5 minutes or until lightly browned. Add sausage, red pepper, rosemary, paprika, onion powder, garlic powder, black pepper and cayenne. Cook, stirring often, for 5 minutes or until sausage starts to brown. Spread evenly in skillet. Remove from heat.
In a bowl, whisk eggs with salt until blended and pour evenly over sausage mixture.
Bake for 10 to 12 minutes or until set. Serve warm, cut into wedges.
Tips
Any smoked sausage can be used. If using a non-spicy sausage, add extra cayenne pepper or some red pepper flakes to this recipe.
Cooked diced potatoes can be used in place of hash browns