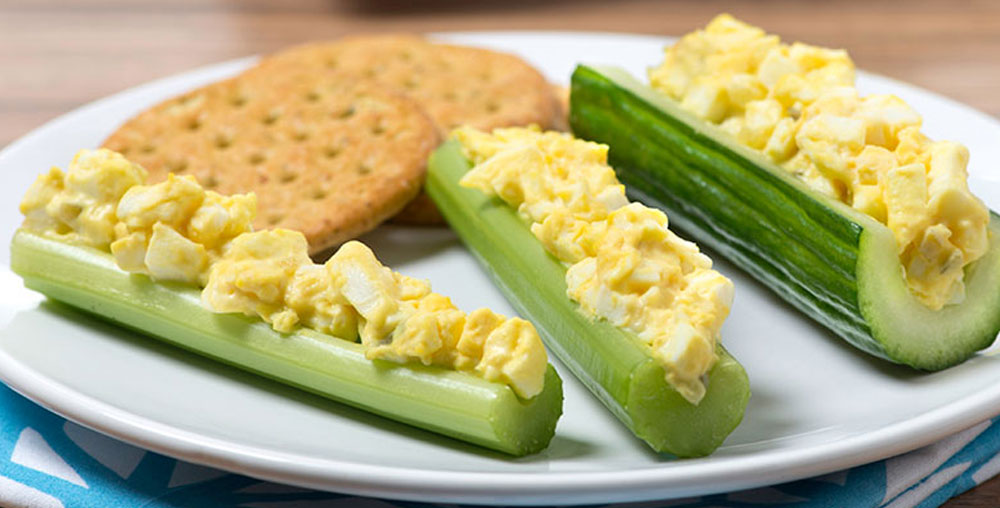 Have the kids help prepare the egg salad so they can adjust the ingredients based on their individual tastes.
Makes: 8 Servings
Prep Time: 10 mins
Cook Time: 0
Ingredients
8 hard cooked eggs, peeled and finely chopped
¼ cup light mayonnaise
2 tbsp sweet pickle relish
4 tsp yellow mustard
4 large ribs celery
1 English cucumber
Instructions:
Stir the eggs with the mayonnaise, relish and mustard until well combined. Store in an airtight containers for up to 3 days.
Trim the ends off the celery and cut into 4-inch (8cm) pieces. Cut the cucumber in half lengthwise. Use a spoon to scoop out the seeds; discard. Cut each half into four pieces to make 8 hallowed out 'boats'.
Spoon egg salad into prepared veggie boats just before serving.
Tips:
Add a splash of pickle juice and a pinch of dried dill for kids who love pickles
Store veggies in an airtight container covered with a damp paper towel until ready to add egg salad and serve.