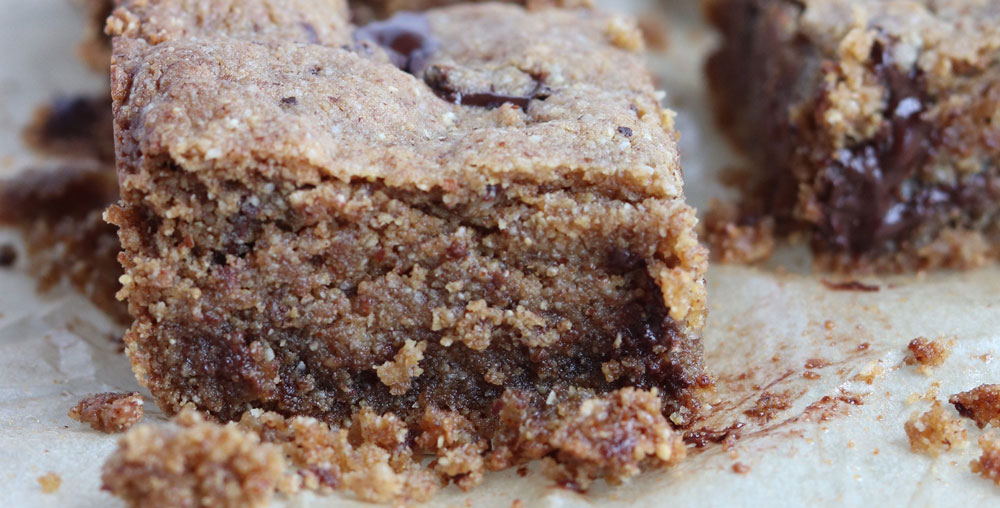 0 minutes from now, you could be snacking on your new favourite summer treat. Grab your Conestoga Free Range Eggs from the fridge and indulge in these unbelievable blondies from Simply Tina G! 
Makes: 8 | Prep time: 15 minutes | Cook time: 16-18 mins
Print This Recipe
Ingredients
1 cup fine almond flour
½ teaspoon baking soda
¼ teaspoon fine sea salt
¼ cup + 1 tablespoon coconut sugar
1 Conestoga Eggs Farms Free Range egg
1 ¼ teaspoon pure vanilla extract
¼ cup melted coconut oil (cool for a few minutes before adding to bowl)
1 cup smooth natural almond butter
1 dark chocolate bar (break into chunks)
Instructions:
Line a 9×5 inch baking pan with parchment paper and grease with coconut oil and preheat to 350 degrees F. I baked it on the middle rack of my oven. You can use another pan like an 8×8.
In a large bowl, combine the almond flour, baking soda, sea salt and coconut sugar.
In a small bowl, combine the egg, vanilla, coconut oil and almond butter. Use a hand mixer to make smooth or a whisk or spatula.
Add the wet ingredients to the dry ingredients and mix with a hand mixer or spatula until well combined.
Fold in most of the chocolate chunks, leaving about a handful to the side to add on top of the blondies before they go in the oven.
Pour dough into your greased pan and make sure you spread it out evenly, pressing down to make sure it's all in there! It will be a little sticky, but don't worry! Add the rest of the chocolate chunks on top and press them into the dough.
Bake for 16-18 minutes, depending on your oven (you might need a little bit longer – I baked mine for 18 minutes). Make sure to keep an eye on it! The edges will get golden brown and the top will harden a bit.
Let it cool down for at least 10-15 minutes before cutting into squares.
Store in a covered container for 2-3 days (if they last that long!).