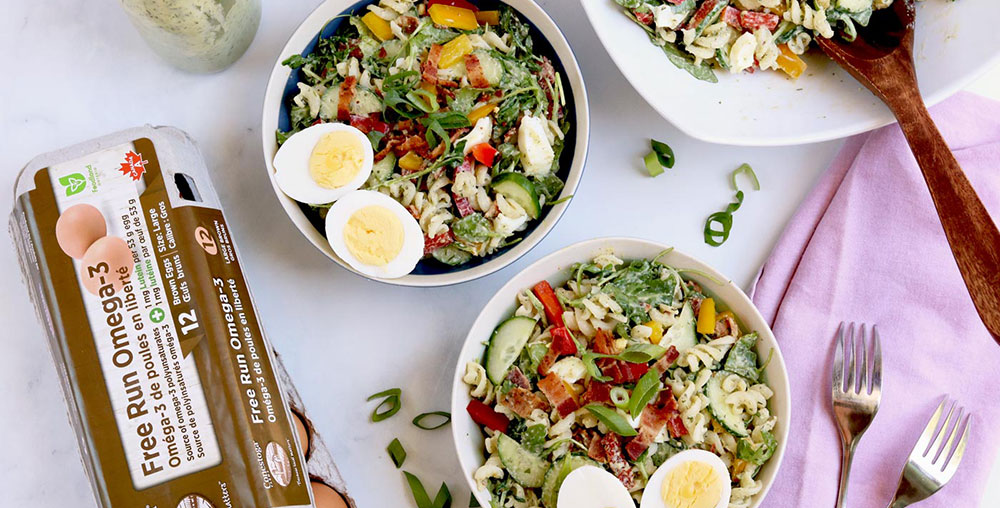 Enter the eggs-press lane to savoury summer flavour with our latest recipe, a Gluten Free B.E.L.T Cold Pasta Salad, served with Avocado Ranch Dressing, courtesy of the team at Naughty Nutrition! Cracked into cooking action comes Conestoga Farms' Free Run Omega-3 Eggs alongside delicious fusilli, sundried tomatoes, crispy bacon, arugula, cucumbers and your own favourite variety of fresh chopped peppers. Allow for chilling time before serving and feel free to substitute in Conestoga's Free Run On the Run Hard Boiled and Peeled Eggs to save time!
Serves: 8
Ingredients
5 cups (350g) fusilli noodles, brown rice, spelt or kamut
8 sundried tomatoes, packed in oil, julienned
1/2 pack bacon or 1/2 cup cooked pancetta
4 cups arugula, packed
1/2 large cucumber, chopped
2 large peppers, chopped (we like to use variety of colours)
6 Conestoga Farms Free Run Omega-3 Rich Eggs, hardboiled and chopped*
Avocado Ranch Dressing (you can use the full recipe or just 1 cup, depends on how heavy you want to dress this salad up) *see below
Avocado Ranch Dressing [makes about 1.5-2 cups]
1.5 cups kefir or regular yogurt (avoid full fat, the recipe will come out too thick)
1 avocado
2 Tbsp fresh squeezed lemon juice (apx. 1 lemon)
2 tsp dried or chopped chives
1.5 tsp dried dill
2.5 tsp garlic powder
2.5 tsp onion powder
1 shallot or 3 tsp dried onion
2.5 Tbsp dried parsley
1 tsp salt
1 tsp pepper
1-2 Tbsp water, if you want your recipe less thick (if using yogurt will be thicker than with kefir)
Instructions:
Hard boil your eggs, set aside in cool water.
Cook the noodles as per package directions. Run under cold water until noodles are chilled, and set aside.
Meanwhile cook your bacon and peel your eggs.
Prepare all of your pasta salad add-ins (julienne the sundried tomatoes, chop your veggies, cut bacon, chop eggs) and add all of the salad elements to your pasta noodles.
Meanwhile, prepare your dressing by adding everything to a blender and puree until mixed into a creamy dressing (be diligent if you're throwing a whole shallot in there).
Take your dry salad and add 1 cup of dressing to the bowl and mix thoroughly.
If you would like more dressing on your salad you can add the rest, all according to preference.
Toss, serve and enjoy!
Quick & Easy Tips:
* Crunched for time and not a fan of peeling eggs? Save time and grab Conestoga Farms 'Free Run On the Run' Hard Boiled & Peeled Eggs.
*This pasta salad is delicious chilled for 1-2 hours before serving. Make ahead of time if you are bringing to an event.