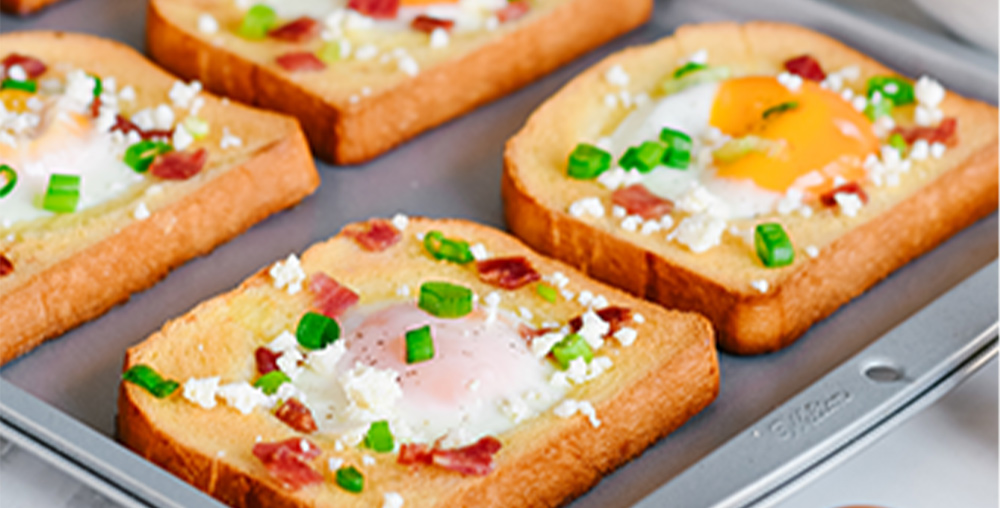 This simple Sheet Pain Eggs in a Hole recipe is an incredible way to feed your family altogether with no line-ups at the skillet! Bonus: Kids can customize their toppings and use their favourite cup-out shape to make the bread hole.
Ingredients
6 Conestoga Farms Free-Run Omega-3 Brown Eggs
6 slices of bread
Cooking spray
Your family's favourite toppings
Salt and pepper
Instructions:
Preheat your oven to 400 F.

Cut out a hole in the centre of each slice of bread. Tip: Use the leftover bread cut outs for mini French Toast or tea sandwiches.

Spray your sheet pan with cooking spray and lay out your bread slices.

Crack an egg into each hole, sprinkle a bit of salt and pepper over top of each. Bake on the middle rack of your oven for approximately 8-10 minutes, depending on how soft you like your yolk.
Remove from oven and add your favourite toppings. Serve!