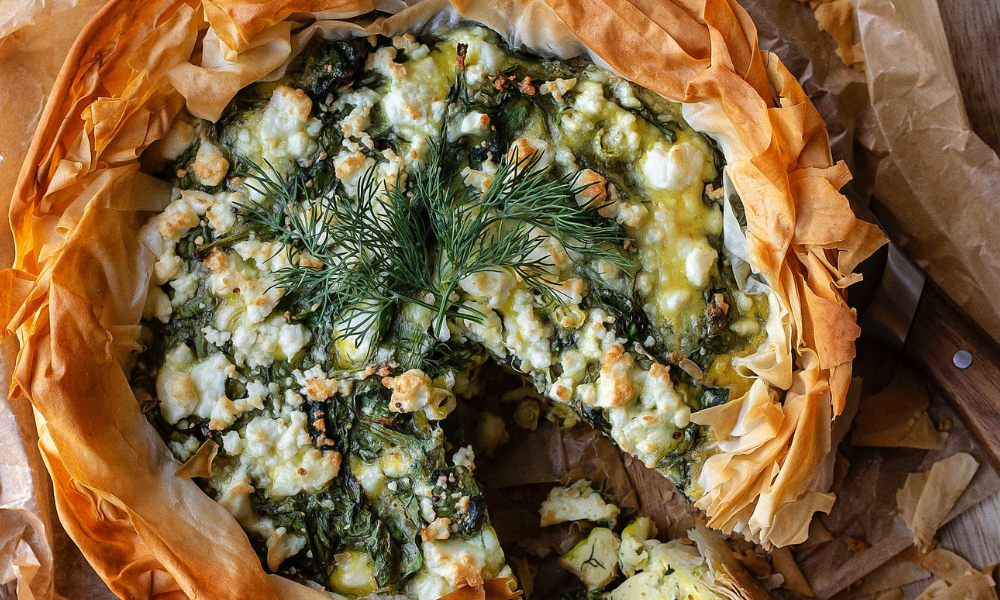 Inspired by her Greek Cypriot roots, Irene Matys showcases the diversity of Conestoga Farms Eggs and how they are enjoyed around the world with this Greek Spanakopita recipe. Not only a family favourite, it's an easy dish for brunch, lunch or dinner!
Yield: Serves 6
Ingredients
12 large Conestoga Farms Free Run Omega-3 Eggs room temperature
¼ cup Greek plain yogurt
1 tbsp Grainy Dijon Mustard
3 Green Onions, thinly sliced
2 tbsp Fresh Dill, finely chopped
3 cup Baby Spinach Leaves
1 tsp Sea Salt
1 tsp Fresh Ground Black Pepper
10 Phyllo Sheets
¼ cup Unsalted Butter, melted
1 tbsp Olive Oil
½ cup Crumbled Feta
Instructions:
Preheat oven to 350 F.
In a large bowl, whisk together all ingredients except feta.
Mix melted butter with oil and using a pastry brush, brush bottom and sides of a 9 inch springform pan.
Working quickly to avoid phyllo from drying out, using a pastry brush, brush each sheet of phyllo with butter mixture. Layer them on top of each other in pan with edges of phyllo draping over sides of pan. Alternate the phyllo sheets to ensure evens around pan.
Fill with egg mixture and tuck in edges just over the pan rim. if you have any butter mixture left, gently brush phyllo tops.
Sprinkle feta cheese evenly on top of egg mixture.
Bake for 4-50 minutes until phyllo is dark golden in colour and egg has set. Depending on your oven, time will vary for the egg to set.
Allow to sit for 5 minutes prior to removing from spring form pan. Serve hot.