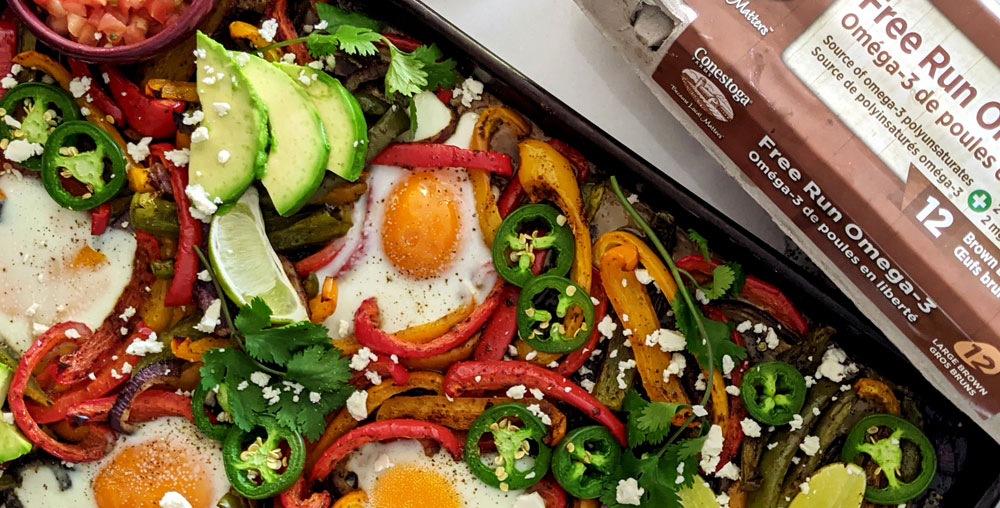 Add a little heat to your breakfast routine with an eggciting new recipe from our friends at Sneaky Mommies. Complete with paprika, peppers, chili powder and the natural nutrients found in Conestoga Farms Free Run Omega-3 Eggs, these breakfast fajitas are sure to spice up any morning!
Print This Recipe
Ingredients
5 multi coloured peppers, thinly sliced
1 red onion, thinly sliced
2-3 tablespoons olive oil
3 teaspoons chili powder
2 teaspoons smoked paprika
2 teaspoons cumin
1 teaspoon garlic powder
1 teaspoon dried oregano
1 teaspoon salt
5-6 Conestoga Farms Free Run Omega-3 Eggs
For Serving (Optional): Tortillas, Cilantro, Avocado, Pico de gallo, Hot Sauce
Instructions:
Preheat oven to 400 degrees F.
On a baking sheet place the thinly sliced bell peppers and onion. Drizzle with the olive oil and season with all the spices. Use your hands to gently coat the vegetables with the oil and seasoning. Spread in a single layer as much as possible and bake for 15-20 minutes.
Once the peppers are soft and tender, make 5-6 wells in between the peppers. Crack the eggs directly into the wells making sure to keep the yolk intact. Bake for another 6-8 minutes (may be longer). You want the egg whites to set and the yolk to be runny still.
Serve immediately in a tortilla with all the toppings.