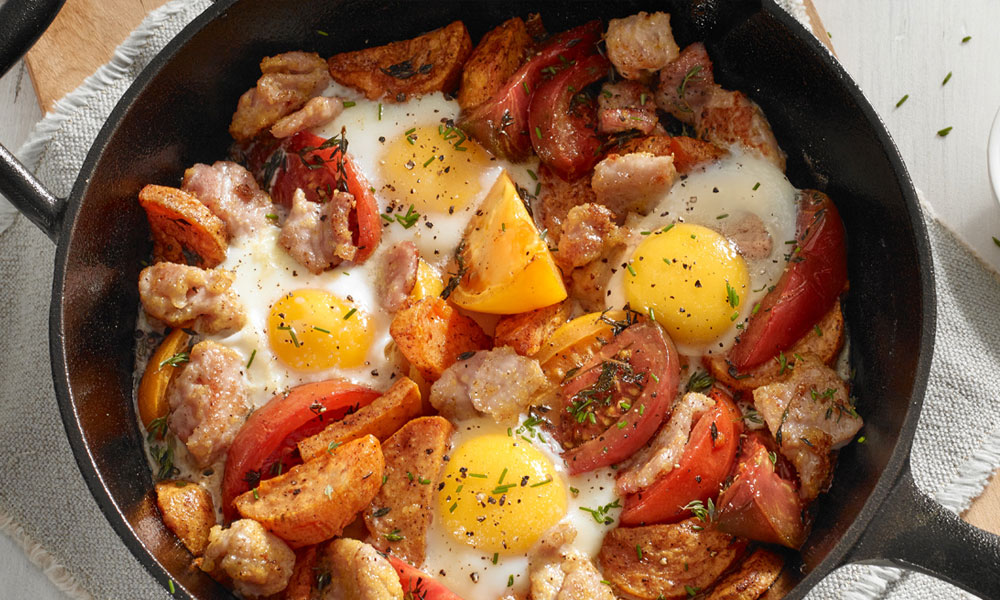 You can't go wrong when eggs and peameal bacon get together and the addition of sweet potato adds a savoury touch to this classic comfort breakfast.
Makes: 2 Servings
Prep Time: 10 Minutes
Cook Time: 30 Minutes
Ingredients
1 cup sliced and halved sweet potato
½ cup chopped peameal bacon
2 tbsp olive oil, divided
½ tsp pepper
¼ tsp salt
¼ tsp ground nutmeg
2 heirloom tomatoes, cut into wedges
1 garlic clove, minced
1 tbsp chopped fresh thyme leaves
4 eggs
Avocado Purée
1 small ripe avocado, quartered
½ cup plain yogurt
1 tbsp chopped chives
salt and pepper to taste
Instructions:
Preheat oven to 350°F (180°F).
In a medium bowl, combine sweet potato, peameal bacon, 1 tbsp (15 mL) of the oil, pepper, salt and nutmeg. Scatter in a 10-inch (25 cm) ovenproof skillet. Bake for 15 minutes.
In the same bowl, stir together tomatoes, garlic, thyme and remaining oil; set aside.
Remove skillet from oven. Flip potatoes and bacon; scatter tomato on top of mixture. With a spoon, make 4 wells and 1 crack egg into each. Bake for 10 to 15 minutes or until eggs are cooked through or have reached desired doneness.
Avocado Purée: In a small food processor, purée avocado, yogurt and chives. Season with salt and pepper to taste. Serve with breakfast bake.
Tip: Add maple sausage instead of peameal for a different flavour.
Tip: This recipe can easily be doubled and made on a baking sheet for brunch entertaining.
Tip: Kick up the flavour of the Avocado Purée by adding 1 tbsp of finely diced Jalapeno peppers.